¿Se están volviendo redundantes los reflectores?
LAS LENTES SE ESTÁN APODERANDO DEL MERCADO DE LA ILUMINACIÓN, PERO ¿TAMBIÉN HAY LUGAR PARA LOS REFLECTORES?
Los reflectores han sido la principal opción en las tiendas de moda durante muchos años. Sin embargo, a medida que la tecnología evoluciona, las lentes están aumentando su popularidad, dejando al sector con la pregunta de si los reflectores tradicionales tienen un papel para desempeñar en el futuro. El uso de una lente permite un control total, a diferencia de los reflectores donde es imposible controlar toda la luz porque no toda la luz toca la superficie del reflector. Sin embargo, la luz sin controlar puede utilizarse para la iluminación ambiental cuando el espacio lo permite.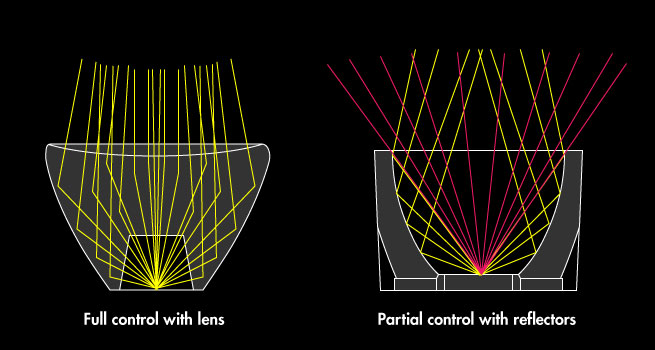 Control total con lente frente a control parcial con reflectores
Así pues, ¿cuál es la diferencia entre iluminar un objeto con una lente y un reflector? A continuación examinamos los diferentes efectos que se pueden conseguir con lentes o reflectores para la Iluminación acentuada.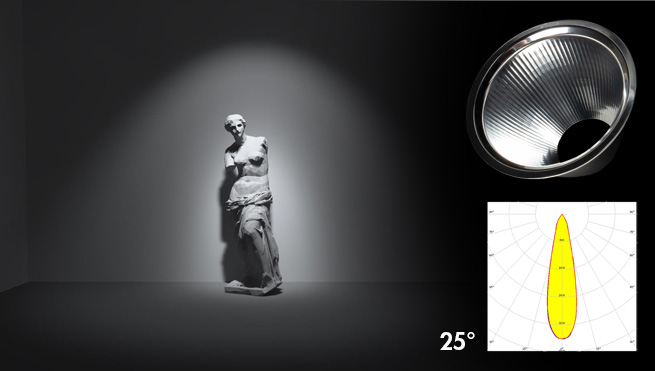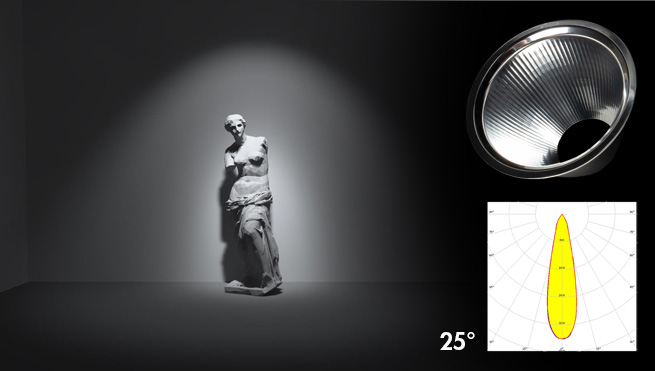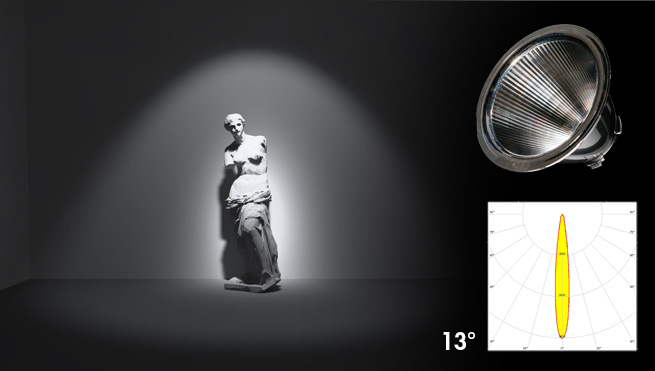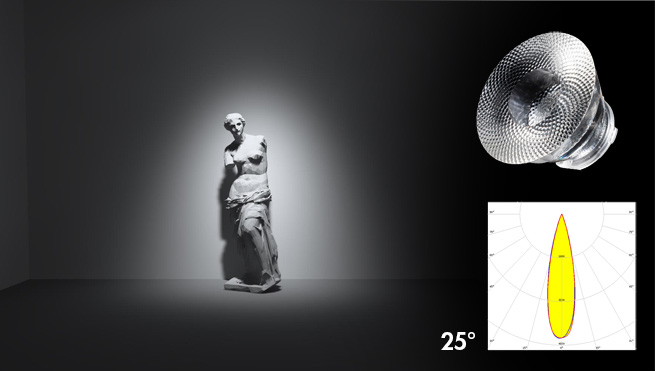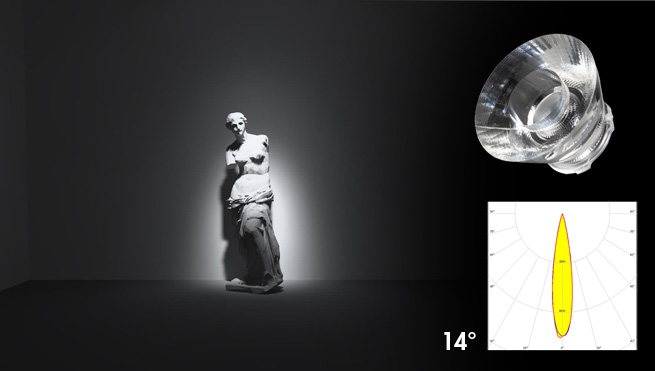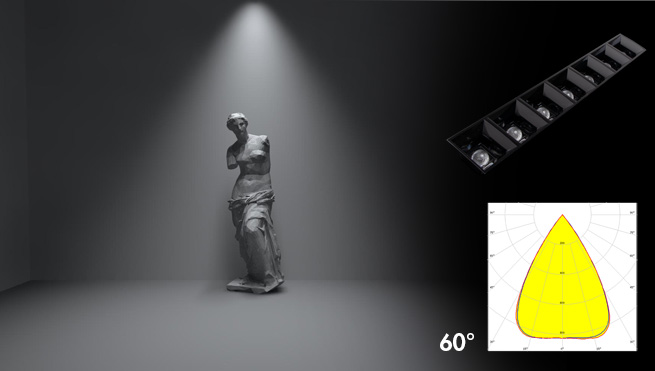 Iluminación de alto y bajo contraste
El éxito del diseño de iluminación siempre debe comenzar con las personas. El grupo objetivo debe determinar qué concepto de iluminación se debe elegir. A continuación presentamos dos conceptos principales de iluminación para las tiendas de moda y explicamos qué ópticas utilizar para lograr el efecto visual deseado.
Los reflectores y las lentes lineales funcionan bien en la iluminación de tiendas de bajo contraste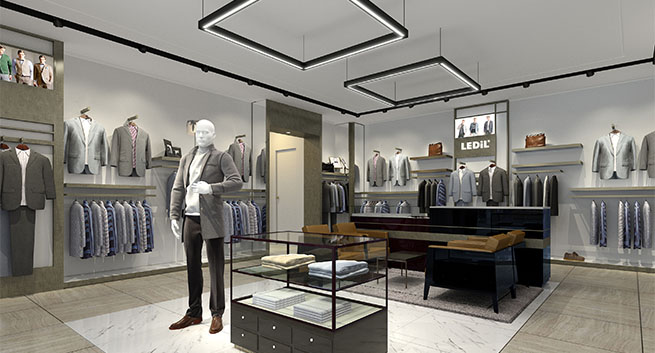 La iluminación de bajo contraste la suelen usar las cadenas de tiendas de moda del mercado medio.
Aunque los productos están bien resaltados, todavía hay un volumen considerable de luz ambiental en la tienda. Para este tipo de concepto, los reflectores suelen ser una buena opción, ya que la dispersión de luz de campo proporciona luz ambiental. Las lentes lineales con fuentes de luz visibles y un ángulo de corte de haz de luz suave son una buena opción para la iluminación general, ya que se integran a la perfección.
Las lentes puntuales y Dark Light permiten una iluminación de tiendas de alto contraste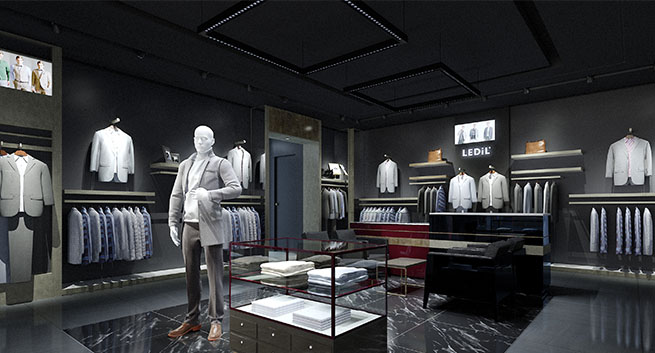 La iluminación de alto contraste consiste fundamentalmente en crear una sensación de exclusividad en los entornos comerciales.
Las paredes y los suelos deben ser más oscuros para crear un contraste bien definido entre los productos y el fondo. El uso de lentes puntuales estrechas con un haz limpio mejora aún más los diseños de iluminación de alto contraste. Por otra parte, las lámparas brillantes solo deben utilizarse con fines decorativos. Las ópticas Dark Light con un ángulo de corte nítido son una excelente opción para aumentar el contraste y evitar el deslumbramiento.
Así pues, ¿se están volviendo redundantes los reflectores?
Mientras que las lentes constituirán una parte cada vez más importante de la iluminación efectiva de las tiendas de moda, los reflectores todavía tienen futuro en los entornos tradicionales de iluminación de bajo contraste.
The hot topic of Dark Light forms an integral part of high contrast lighting which is currently on everyone's lips. Unobtrusive lighting, so discrete you can barely see the light source, is equally engaging for office or retail lighting environments.