CASE STORY
LEDiL PRODUCTS USED:
LUMINAIRE MANUFACTURER:
AFC LIGHTING – OPTOLED
A Turkish company supplying innovative indoor and outdoor lighting solutions. Professional staff providing design, engineering, installation and commissioning services.
www.afclighting.com
STREET LIGHTING – MOROCCO
"We are delighted to work with the best optical company in the world. We had great support at every step of the project and will choose LEDiL again when optics are needed."

Mr.Cuneyt Fidan – R&D Director – AFC LIGHTING – OPTOLED
PROJECT
To provide uniform, energy efficient street lighting; that was the task AFC LIGHTING – OPTOLED were given in Marrakesh, Morocco. As the road had never been lit before the company had free hands in terms of the pole distances and lens types used in order to get the best possible results.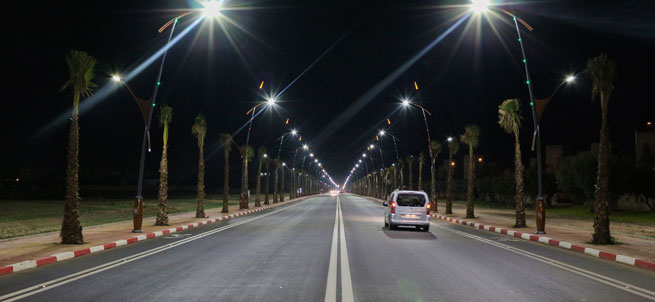 SOLUTION
The luminaire design AFC LIGHTING – OPTOLED wanted to use did not have any protective covers attached but still had to withstand dusty, humid outdoor conditions. They contacted LEDiL technical support to carry out the necessary calculations and simulations from which STRADA-IP-2X6-DWC was deemed the best choice. Everything from prototyping to installation went smoothly and the road was finally lit properly for the first time with new LED lighting.
BENEFITS
By co-operating with LEDiL, AFC LIGHTING – OPTOLED were able to achieve street lighting that is both efficient and aesthetic to look at. The beautifully designed light poles next to the palm trees are not only a perfect match for the environment, but also provide high quality lighting and safety for all road users.