CASE STORY
LEDiL PRODUCTS USED:
LUMINAIRE MANUFACTURER:
BUCK
A recipient of numerous international design awards BUCK has over 25 years experience providing solutions for architectural, medical, industrial, street, public and sports lighting. With a presence in 45 countries the company's main markets include Germany, Belgium, Ireland, UK, France, Austria, Russia and the CIS region.

BUCK Lighting website
STADIUM LIGHTING – SERBIA
"We chose LEDiL as our project partner not just because they had the perfect optic for the job but also for the excellent finish and quality of their materials, UV stability and great technical support. Because of this every luminaire developed by BUCK for outdoor, industrial and sports lighting purposes incorporates LEDiL optics."

Miloš Petrović, outdoor lighting specialist / BUCK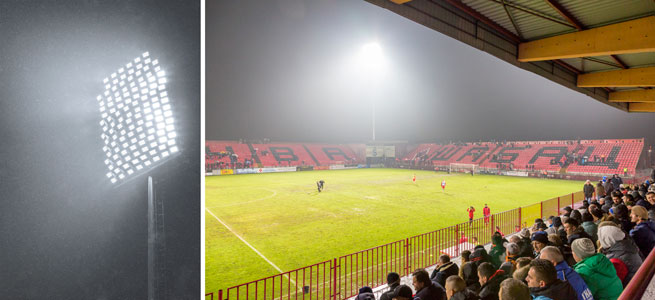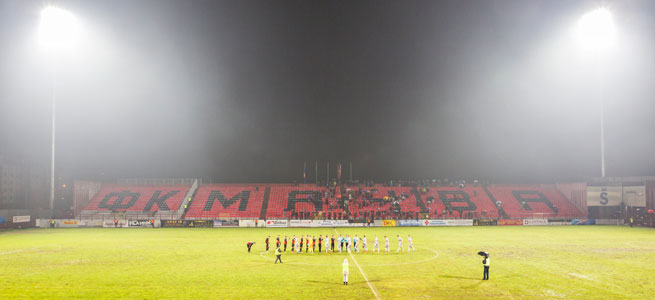 PROJECT
There's nothing worse for fans than watching your team play under flickering floodlights in their home stadium. Television companies also need bright, reliable lighting free from flicker for their High Definition broadcasts. Last but not least the stadium owner needs to keep an eye on costs, with floodlights and their maintenance playing a large part. With all this in mind football team FK Mačva decided LED was the answer for lighting their home turf at the Gradski stadium in Šabac, Serbia.
To design, supply and install the new floodlights and create the very first LED illuminated stadium in the country they chose Belgrade based lighting design and manufacturing company BUCK for the job.
SOLUTION
When they took on the project BUCK weren't even sure they could complete it as they couldn't find a suitable optic. The proposed solution was to place a pole at each corner of the stadium and mount floodlights on consoles at heights of between 35m and 50m. But without an optic to focus all the required lumens the light would blind players and spectators and BUCK would have scored an own goal. And then LEDiL saved the game when they extended their HB-2X2 lens family.
BUCK used their TANGRAM HB12 reflector with the newly released LEDIL C14541_HB-2X2-RS lens to gain a maximum light output ratio of (LOR>93%) and a very accurate light beam; the narrowest being just 13 degrees. LEDiL's HB 2×2 fitted perfectly with the LED modules in an open housing concept eliminating the need for a protecting cover or and avoiding additional light dispersion and loss.
BENEFITS
The new system is fully programmable offering the client a range of scenic lighting options and effects. The fact that unlike halogen lights LEDs operate at 100% efficiency from the moment they are switched on is another useful feature.
Furthermore, using LEDs has resulted in an energy saving of more than 55% reduction in energy costs. The reduced energy consumption also meant a low voltage sub station was not required leading to vastly reduced electrical installation costs and a faster payback. In addition, the calculated lifetime of the installation is up to 20 times longer than a conventional halogen solution, leading to a considerable saving in maintenance costs.
But beyond the cost savings perhaps most importantly of all the project has resulted in much improved lighting conditions for the players, and greater pleasure for their loyal fans.