SEEING FURTHER WITH LEDiL'S IR OPTICS
BENEFITS OF INFRARED LIGHT
Invisible to human eye

Discreet and convert illumination

Minimized light pollution
Suitable for very long distance illumination
DISADVANTAGES OF IR-LIGHT
Invisible to human eye

Possible risk of eye injury at high illumination levels

correct colour rendering is not possible

Find all our optics for IR lighting
---
For help with an application simulation using our optics, or to make a request about what application you want us to cover next,
contact Tech support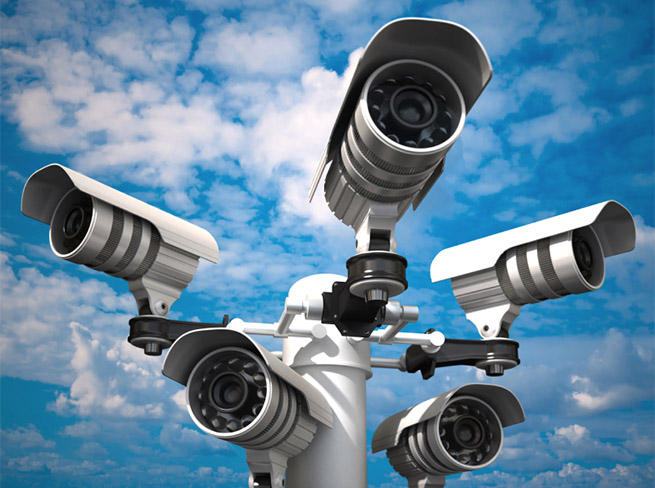 IR illumination has many applications, ranging from basic CCTV surveillance cameras to very sophisticated machine vision and automation systems. Infrared has many advantages over visible light – in surveillance applications it keeps lighting discreet and helps to conceal the camera's viewing direction. In machine vision and automation applications, longer wavelengths of IR have a higher penetration rate through smoke and fumes.
IR emitters have many advantages over other IR illumination sources. They are smaller in size, have lower electric consumption, are durable and insensitive to moderate vibration. Most of LEDiL's standard secondary optics are optically compatible with IR emitters. However, LEDiL also has developed lenses specifically for Osram IR emitters. The light distribution of these lenses is optimized for use with the specific IR emitters.
EXAMPLES OF LEDiL's IR-OPTIMIZED SECONDARY OPTICS
Specifically designed for CCTV surveillance
Rectangular beam designed to match the rectangular field of view of camera sensor
Beam widths are optimized for different focal length camera optics
IRENE has same footprint as 21.6 mm diameter LEILA family of optics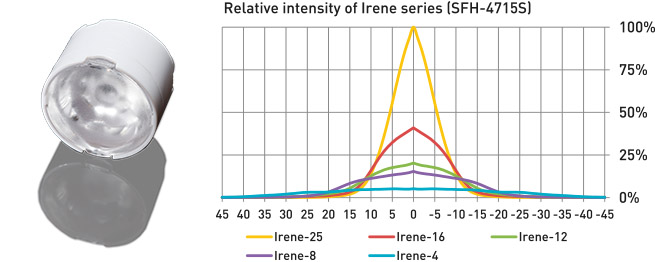 Small footprint suitable for tight PCB layout
Diverse selection of beam angles ranging from real spot to wide including oval pattern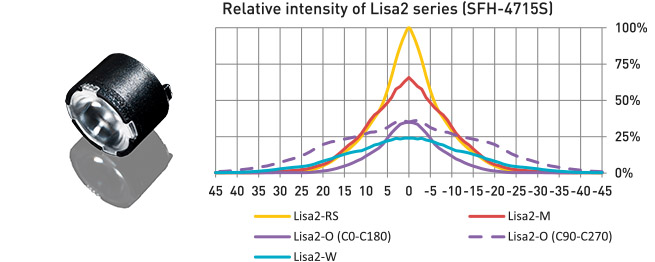 Tight real spot lens for longer range
FHWM 11° with Ostar IR emitter
High intensity peak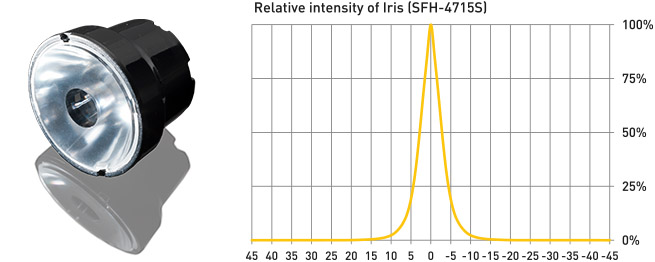 TYPICAL APPLICATIONS
Surveillance of large areas and spaces
Military applications
Night vision systems
DEMONSTRATION OF HOW DIFFERENT BEAM ANGLES INFLUENCE IMAGE IN CCTV SURVEILLANCE SYSTEMS
The illumination level is inversely proportional to the square of the distance from the light source – Light focusing optics provide more reach with less power used
To be most effective, light distribution should be adjusted to fit the camera's field of view
LED in use: OSRAM SFH 4715S IR
LED Only
– Visibility approx. 2.8 m

With wide beam optics (EVA-W)
– Visibility approx. 7 m

With medium beam optics (LXP-M)
– Visibility approx. 14 m

With spot beam optics (IRIS-IR)
– Back wall of the corridor is still brightly illuminated as well as the subject.
Secondary spot optics are best suited for outdoor areas where long distance illumination is mandatory.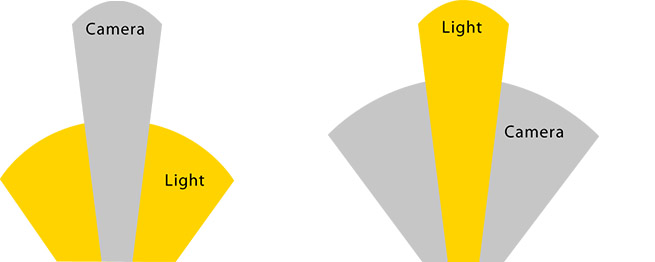 Light that is too wide for camera's field of view means wasted light and reduced illumination range.
Light that is too narrow produces glare and white-out in the center of the area, with corners not correctly illuminated.
CHOOSING RIGHT OPTICS FOR RIGHT APPLICATION MEANS BETTER QUALITY AND BEST POSSIBLE EFFICACY
Find all our optics for IR lighting
The information contained herein is the property of LEDiL Oy, Joensuunkatu 13, FI-24100 SALO, Finland and is subject to change without notice. Please visit www.ledil.com for additional information, such as the latest photometric files, 3D mechanical models, and application notes relating to handling, gluing and taping.