APPLICATION EXAMPLE
Supermarket aisle lighting with FLORENCE-3R and LINDA
---
For help with an application simulation using our optics, or to make a request about what application you want us to cover next,
contact Tech support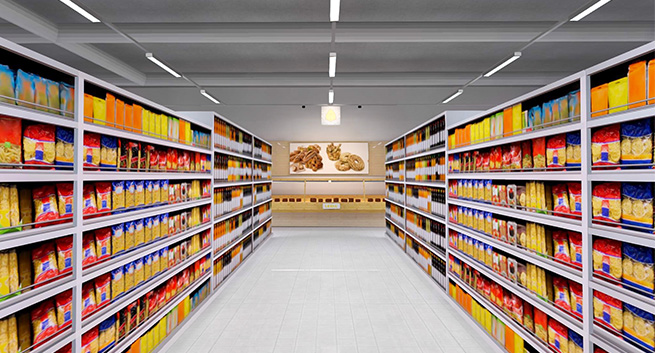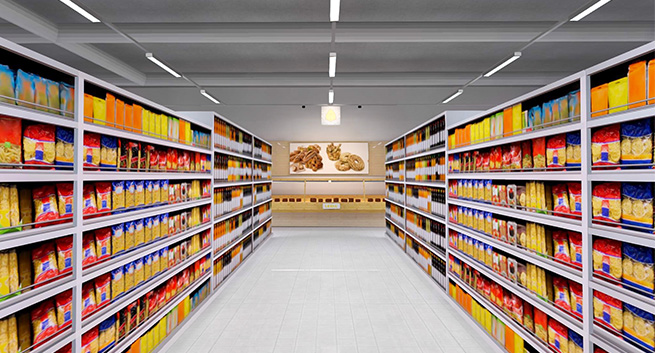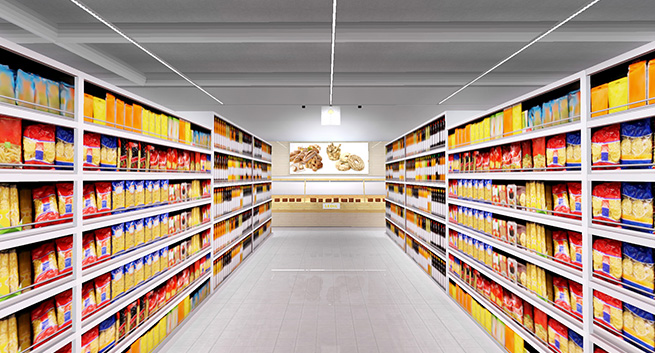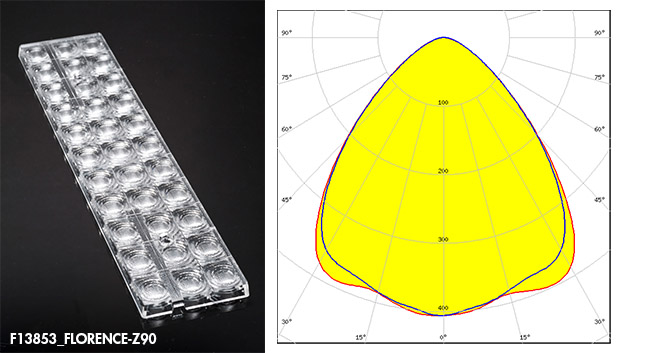 Comparison of two linear aisle lighting concepts in supermarkets
The sufficient lighting levels on floor is around 300 to 500 lx, and 600 to 1000 lx on the vertical surfaces where products are displayed
EXAMPLE #1 – SYMMETRICAL LIGHT DISTRIBUTION
In this aisle lighting concept the luminaires have symmetrical light distribution and are located in the middle of an aisle, ensuring evenly and efficiently distributed light to whole area. To get sufficient lighting levels on the shelves usually leads to excess lighting on the floor. Meaning less energy savings and potentially more glare.
Go to F13853_FLORENCE-Z90 product card
Go to F16261_FLORENCE-Z90-B product card
EXAMPLE #2 – ASYMMETRICAL LIGHT DISTRIBUTION
With asymmetric light distribution the vertical lux levels on the shelves are about double (or at least the same) compared to the floor. When you fulfill the 300 lx level on the floor, you will typically have 600 to 750 lx on the shelves. This approach highlights the products moderately with potential energy efficiency savings and glare reduction.
Go to F16858_LINDA-Z2T25 product card
Notice that huge accents are not always preferred or typically recommended, as supermarkets must please a wide range of different people.
SETUP:
| | |
| --- | --- |
| Installation height: | 3 m |
| Shelf height: | 2.2 m |
| Aisle widht: | 2.4 m |
The information contained herein is the property of LEDiL Oy, Joensuunkatu 13, FI-24100 SALO, Finland and is subject to change without notice. Please visit www.ledil.com for additional information, such as the latest photometric files, 3D mechanical models, and application notes relating to handling, gluing and taping.