GABRIELLA-MIDI - RGB AND TUNABLE WHITE COLOUR MIXING LENS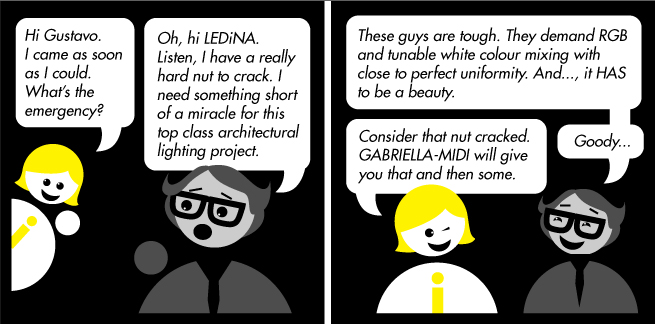 GABRIELLA-MIDI is the latest member to join LEDiL's RGB and tunable white colour mixing lens family. GABRIELLA-MIDI has a unique microstructure surface that ensures near perfect colour uniformity critical for colour mixing applications such as architectural, stage and flood lighting. With 44 % more LEDs on the same PAR64 than GABRIELLA-45, GABRIELLA-MIDI works perfectly also with white LEDs, eliminating the problem of colour separation.
GABRIELLA-MIDI is optimized for 5050 and compatible with 7070 RGB LEDs that include OSRAM OSTAR Stage, Cree XM-L Colour and LEDengin LZ4. Double sided adhesive tape and optional screws for mechanical robustness, together with positioning pins, ensures easy and accurate assembly. GABRIELLA-MIDI is available now with spot, medium and oval beams and a wide beam will be available soon.
GABRIELLA-MIDI COLOUR MIXING / WALL-GRAZING
GABRIELLA-MIDI-O:
Provides wide, uniform results from close up, even with wider spacing.
GABRIELLA-MIDI-M:
More light concentrated at the bottom. Perfect solution for longer distances with tilted fixture.
GABRIELLA-MIDI-S:
Narrow beam with excellent reach for longer distances.