Announcement 9.5.2018
JAN PETTERSSON IS THE NEW CFO OF LEDiL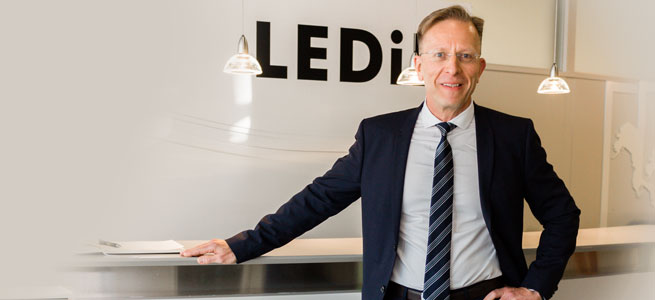 Jan Pettersson (M.Sc. Econ.) has been appointed as our new CFO effective as of August 2018. Jan will focus on bringing LEDiL to the next operational, organizational and financial level and thereby help us reinforce our position as the undisputed global market leader in LED optics. We firmly believe that Jan will contribute to the implementation of our global growth strategy and strengthen our dedicated team.
With a background in global companies such as Nokia, Cederroth and Cloetta, Jan has many years of experience as CFO and broad knowledge of finance and control management. Jan will focus on reviews, analyses and developing LEDiL's finance and control processes to enable us to get to the next growth level. Jan will be a member of the management team and he will be located in our headquarters in Salo, Finland.
Jan is a bright, structured and result-driven person. His working philosophy is to involve people, discuss and listen in order to get a solid base for fast pace decision making. "It took more than LEDiL's impressive growth rate to convince me to join LEDiL", Jan says. "LEDiL's market position as a forerunner, the paradigm shift in the lighting industry towards sustainable LED lighting and the high tempo, family-like atmosphere in the company is what won me over. The journey will be challenging but interesting and I am looking forward to contributing to the future story of LEDiL", Jan concludes.
We warmly welcome Jan to our global LEDiL team and wish him success in the new challenges.