January 4, 2019
LEDiL® OY CONTINUES TO DEVELOP OPERATIONS BY ACQUIRING DELIVERED LIMITED, A GLOBAL LOGISTICS PROVIDER IN HONG KONG
LEDiL Oy, founded in 2002 and based in Salo, Finland, specializes in the development and manufacturing of LED optics. The industry and the company have been experiencing tremendous growth. Starting with the two founders, LEDiL Oy has grown into a market leader in its industry and a global player with over 150 employees in just 16 years.
The Headquarters in Salo, the heart of the company, focuses on product development, laboratory operations, administration and warehouse logistics. The central warehouse in Salo primarily serves the company's European customers. In addition, LEDiL has its own warehouse at its North American subsidiary LEDiL Inc. and now a warehouse in Hong Kong.
To ensure it maintains its position at the forefront of an increasingly competitive industry, LEDiL decided to acquire the logistics operations provider Delivered Limited in Hong Kong that has been a trusted logistics partner of LEDiL since 2014. Delivered Limited brings LEDiL extensive logistics and delivery management expertise.
LEDiL's CEO, Jyri Järvinen, says "With Delivered Limited by its side, LEDiL will be closer to and better equipped to serve its customers and partners in both Asian and global markets in the future."
Delivered Limited transferred to LEDiL's ownership at the end of December 2018 and is now serving LEDiL's customers at full capacity.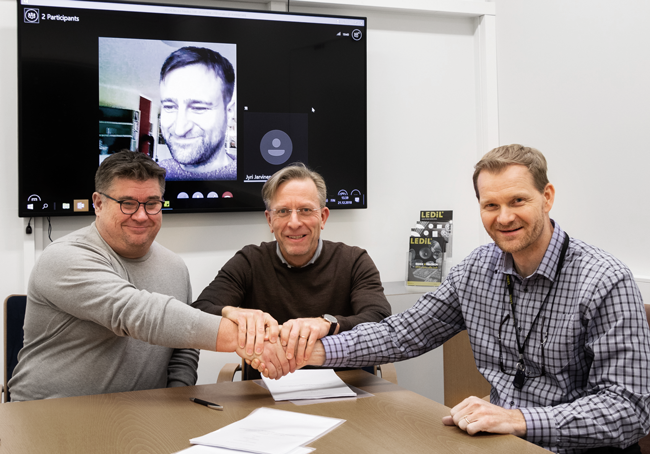 Delivered Limited's formal owners Petri Mikkola and Tobias Konings (on the screen), LEDiL's CFO Jan Pettersson and CEO Jyri Järvinen.