VERONICA-SQ-WG
Façade beauty accentuated
Highlighting the best in architectural design
Architectural lighting is as much art as it is technology. It illuminates architectural landscapes and surfaces, bringing visual architectural design to life.
Wall grazing is often used to reveal and illuminate the design of vertical surfaces such as façades, directing attention to their beauty, while accentuating wall textures and creating stunning effects.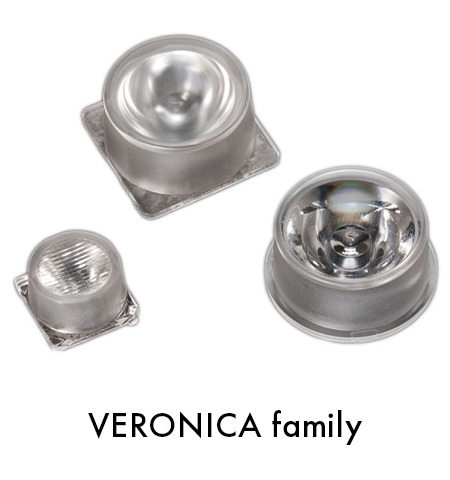 The best results for creating aesthetically pleasing solutions in outdoor architectural applications can be achieved by using designated wall grazing single lenses such as VERONICA-SQ-WG. This lens features outstanding light quality, turns surfaces into the focus of attention, and accentuates textures.
VERONICA-SQ-WG joins other members of the VERONICA family of easily sealable miniature optics for challenging environments and outdoor lighting.
The square shaped VERONICA-SQ-WG includes adhesive tape for easy installation and features a narrow asymmetric spot beam for stunning light quality, delivering the best wall grazing effects. This makes it the ideal lens for outdoor architectural, façade, display, and billboard lighting applications.

VERONICA-SQ-WG enables lighting designs with stunning light quality that draw attention to the aesthetics of the illuminated surface and accentuate the beauty of the architecture.
To learn more about VERONICA-SQ-WG contact our sales team. You can download IES files on the product pages.