CASE STORY
LEDiL PRODUCTS USED:
LUMINAIRE MANUFACTURER:
Ledshop OÜ
Ledshop OÜ is an idea driven B2B lighting installation and solutions provider. Mainly focusing on industrial and office buildings the company also manufactures façades and its project management service has all the competencies to participate in a development project from the planning phase through to the finish.

Estonia ensures their creation stands out from the crowd by daring to be different.
RELATED CONTENT:

Case Story – Estonia at 100 gets a stunning lighting installation
LAEV – BALANCE AND BEAUTY IN ESTONIA
"We chose LEDiL to be our main partner for this project due to the fact that LEDiL has a wide range of optics for a wide range of LED elements. There is nothing to stop the lighting designer from finding anything but the best for a desired solution."

Jarmo Võsa, Ledshop
PROJECT
LAEV is a unique mix-use office and apartment building development located by the sea at the gateway to the Rocca al Mare shopping centre in Tallinn, Estonia. Designed by KOKO Architects LAEV's distinctive façade is a combination of glass surfaces and 3947 individual dynamic lamellas. To highlight the exclusivity and modernity of LAEV the architects asked Ledshop OÜ to deliver custom designed light fixtures that would illuminate each of the lamellas individually to further enhance the beauty of an already stunning façade.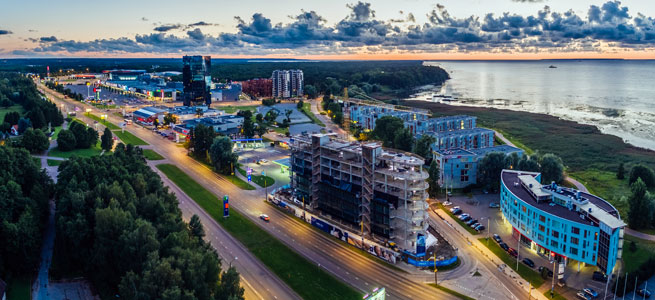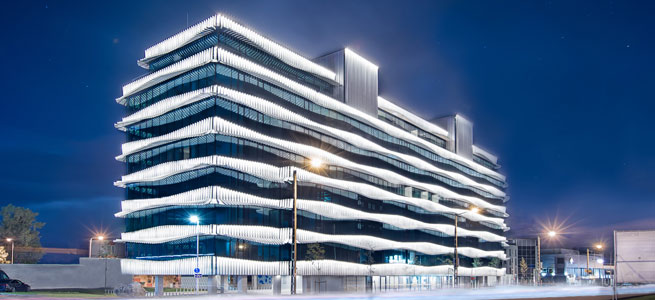 SOLUTION
One of the most important criteria for illuminating each lamella was to make sure the light was controlled so that there was no spill on to the next lamella. After testing a variety of solutions Ledshop OÜ chose LEDiL's FA10697_LN2-M from our LEILA TIR lens family with a 25° beam for its high degree of accuracy and controllability.
BENEFITS
Quite possibly one of the most complex and demanding façade lighting projects in Estonia the end result is a solution that allows illumination for each of the 3947 lamellas to be separately controlled using DMX. During the dark autumn and winter months Ledshop OÜ's unique lighting solution ensures the LAEV building stands out in a class of its own.