CASE STORY
LEDiL PRODUCTS USED:
LUMINAIRE MANUFACTURER:
Broll Systemtechnik KG
Broll Systemtechnik KG is headquatered in Obertraubling near Regensburg, Southeast Germany. Experts in tunnel lighting systems the company has worked on projects in Austria, Germany, Switzerland, Croatia, Slovenia, Slovakia and Macedonia.
TUNNEL VISION
"We chose LEDiL as our preferred partner because their tunnel lighting optics are the highest quality, assuring accurate light distribution, safe driving conditions and ultimately the success of this project."

Mathias Wagner, Project Manager, Broll Systemtechnik KG
PROJECT
Tunnel lighting presents a whole host of demands specific to this area of road lighting. When entering or exiting a tunnel it is important the contrast does not distract the driver, and when in the tunnel visibility should be excellent and glare free. Tunnel lighting design is therefore best left to the experts, and in this case the experts are Broll Systemtechnik KG from Obertraubling near Regensburg in Southeast Germany. Broll have been providing LED tunnel lighting since 2008 and when the Triple tunnel on the A4 in Vienna, Austria needed illumination, Broll were chosen for the job.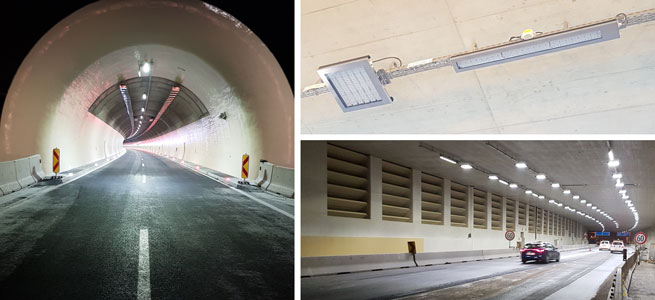 SOLUTION
Broll made a complete interior and exterior LED-lighting solution including a decentralized 3kW power supply located in a separate room near the tunnel. Using only DC current in the tunnel Broll used luminaires with both symmetrical and asymmetrical light distribution. The symmetrical luminaire, with approximately 22 000 lumens, used LEDiL's STRADA-2X2-CAT optic while the asymmetrical luminaire, with 42 000 lumens, used our STRADA-2X2-FS3 optic.
BENEFITS
The results were, in Broll's own words; 'a very good lighting system with perfect light distribution for this tunnel'. The decentralized power supplies also mean if there are any problems with the electronics any maintenance work can be carried out in a separate room without disrupting traffic flow.