CASE STORY
LEDiL PRODUCTS USED:
LUMINAIRE MANUFACTURER:
LUXR
LuxR light fittings are ingeniously crafted to harness the advantages of LED technology, incorporating a host of unique innovations to minimise energy use, reduce maintenance requirements and simplify installation.
www.luxrled.com
SMALL SIZED LANDSCAPE LIGHTING – NEW ZEALAND
"At LuxR we find LEDiL offer a superior product to most optic manufacturers. They design for a wide range of applications to create unique optics that work well with our philosophy. LEDiL are easy to communicate with and their biannual visits to our factory combine to make them a great partner for LuxR."

Daniel Smith — Design Leader at LUXR
PROJECT
The aim was to create an outdoor luminaire product with a high IP-Rating that provides a soft and discrete light to illuminate the underside of foliage, small plants and trees.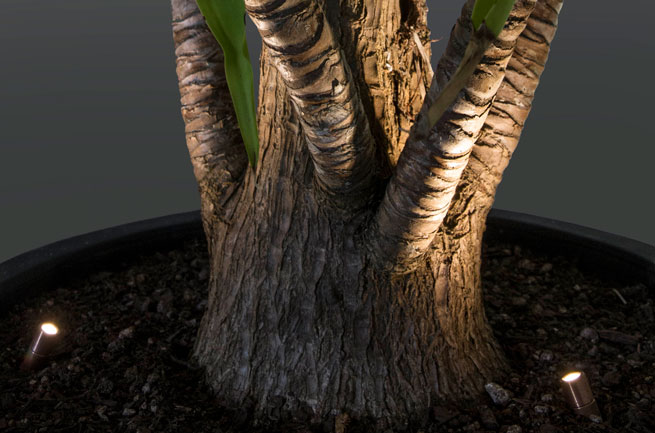 SOLUTION
LEDiL STRADA and LISA optics were specifically chosen due to the size restraints of the products but they also gave us the possibility to create products that can be customized for different applications. LISA was chosen for the Micro Spot luminaire as it is ideal for illuminating small trees while STRADA-S was used for the Micro Diamond 180° and 360° luminaires for illuminating bushes and lower plants.
BENEFITS
By co-operating with LEDiL, AFC LIGHTING – OPTOLED were able to achieve street lighting that is both efficient and aesthetic to look at. The beautifully designed light poles next to the palm trees Using both styles of optics we were able to create a small pen like lighting fixture that almost disappears into any outdoor lighting situation whilst delivering a high level of lighting performance.