ANGELETTE PRODUCT FAMILY
Angelette family consists of three symmetrical light distributions – Spot, Medium flood and Wide flood – and a wall-washer reflector designed for best in class uniformity and quality of light.
ANGELETTE's smooth, glare-free and uniform light pattern is optimized for highest quality office, hospitality and museum lighting
Part of LEDiL's System Reflector philosophy – compatible with existing ANGELA/ANGELINA clamps and sublenses
Works with a multitude of solderless connectors such as TE, Molex, Ideal and BJB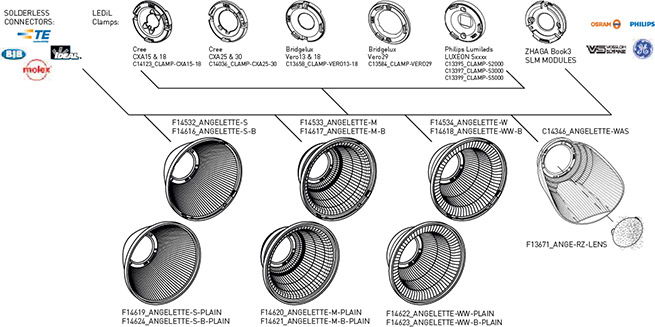 ---
The information contained herein is the property of LEDiL Oy, Joensuunkatu 13, FI-24100 SALO, Finland and is subject to change without notice. Please visit www.ledil.com for additional information, such as the latest photometric files, 3D mechanical models, and application notes relating to handling, gluing and taping.