LEDiL SYSTEM REFLECTORS
LEDiL has a full ecosystem of System Reflectors available as standard parts. The ecosystem consists of three interfaces each with its own compatible families. All three ecosystems share LEDiL's philosophy of easy optical component interchangeability. Whether your choice is LENA/LENINA, MIRELLA-PF/BARBARA-PF or ANGELA/ANGELINA – we offer full luminaire configurability during the last stages of manufacturing. Each of these three systems offer optical interfaces for a range of COB's from most LED suppliers and have a full range of optics from narrow spot to wide flood. For flexible design options and a minimized time to market – design in System Reflectors.
LEDiL has qualified it's ANGELA and ANGELINA families to be used with Cree's CXA35 family of COBs together with IDEAL solderless connector.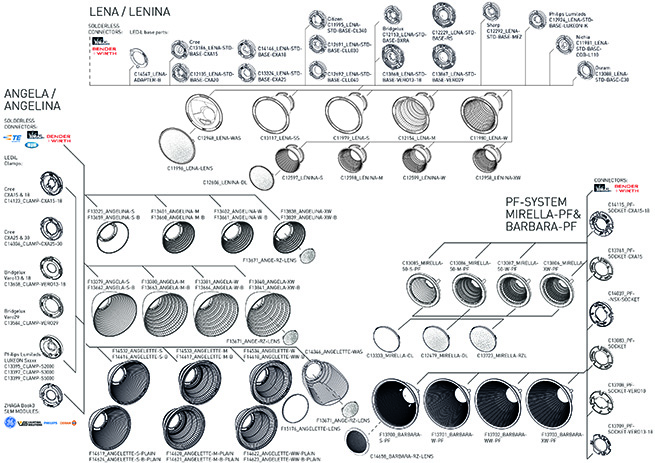 ---
The information contained herein is the property of LEDiL Oy, Joensuunkatu 13, FI-24100 SALO, Finland and is subject to change without notice. Please visit www.ledil.com for additional information, such as the latest photometric files, 3D mechanical models, and application notes relating to handling, gluing and taping.