NEWS
RELATED CONTENT:


Horticultural lighting article


Introduction to horticultural lighting
GO TO NEWS ARCHIVE
DAHLIA
WELCOME TO A WHOLE NEW WORLD OF OPPORTUNITY IN HORTICULTURAL GROWTH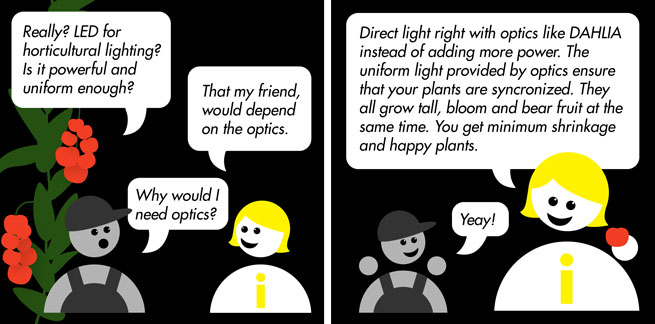 DAHLIA is LEDiL's latest optic for the horticultural industry. Designed specifically for greenhouse top lighting, DAHLIA is a highly efficient compact linear platform fitting 120 LEDs with up to IP67 ingress protection. The batwing type beam provides extremely uniform lighting in the growth area resulting in shorter growing cycles and even growth of plants, flowers and salad crops.
DAHLIA enables you to fully control the light spectrum and intensity to meet the growth phases of individual plants with the support of 1-4 channels and a varying number of LEDs per channel. As DAHLIA fits 120 LEDs, a number divisible by 4, 3 and 2 it covers all the bases regardless of the number of channels you might need. So if you want to get your flowers blooming just turn up the blue light; or zap them with a bit of extra purple light to speed up growth without flowering.
Naturally, because we're talking LED, DAHLIA helps reduce your luminaire bill of material by focusing the light energy on the plants using less power and less luminaires compared to traditional solutions.