HEKLA-G2 – solderless connection getting easier
Pre-fix for COBs, simple construction, budget friendly
With a pre-fix for COBs HEKLA-G2 is a re-designed and improved version of our previously released first generation of HEKLA connectors.
HEKLA-G2 comes with inner and outer connection interfaces. The inner connection interface has been simplified to include only one twist and lock slot entrance for two different optic heights with or without an RZ lens. This enables simple construction, easy assembly and secure optic fastening.
HEKLA-G2 supports many COBs and LEDiL optics. It is made from durable materials to withstand high temperatures without losing grip and has 150 V voltage limit that enables connecting COBs in series.
VDE Certificate, Tested and certified according to: DIN EN 60838-1:2017-10 + A1 (VDE 0616-5:2017 + A1):2018-02; EN 60838-1:2017 + A1:2017
HEKLA CONNECTORS AND SOCKETS
Rated voltage: 150 V
Rated current: 3 A
HEKLA-G2 vs HEKLA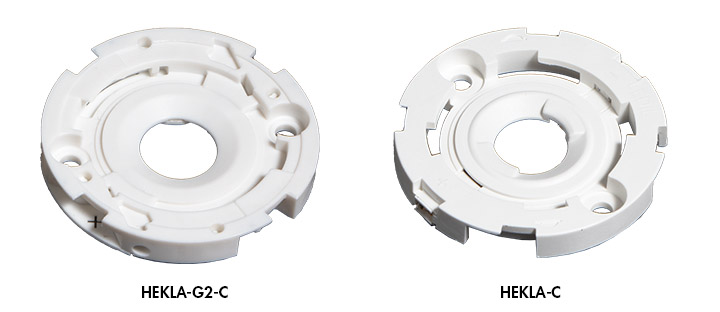 Pre-fix for COBs
Reduced number of installation slots for simpler construction, easier assembly and more secure fastening
Higher voltage limit 150 V enables connecting COBs in series