CASE STORY
LEDiL PRODUCTS USED:
LUMINAIRE MANUFACTURER:
Boos Lighting Group
International Lighting Engineering Corporation "Boos Lighting Group" comprises research, engineering and industrial resources. Our service offering includes lighting concept, styling and design as well as manufacturing, construction and installation. Boos Lighting Group also provides technical support and maintenance of our lighting systems for the duration of their lifetime.
RELATED CONTENT:

Introduction to indoor architectural lighting

Case Story – Fazer Visitor Centre

Case Story – The Basilica of San Francesco

Case Story – Bringing new light to the Belogorsky Monastery of St. Nicholas
A MASTERPIECE OF LIGHT
"We analyzed the products of different manufacturers of secondary optics according to the required parameters of the light distribution angle and the quality of the light spot. Finally we opted for a product from the Finnish company LEDiL, with which we have been successfully cooperating for many years. The versatility of the installation of various types of optics is an important advantage of LEDiL products."

Alexey Zvyagintsev — Chief of New Products Department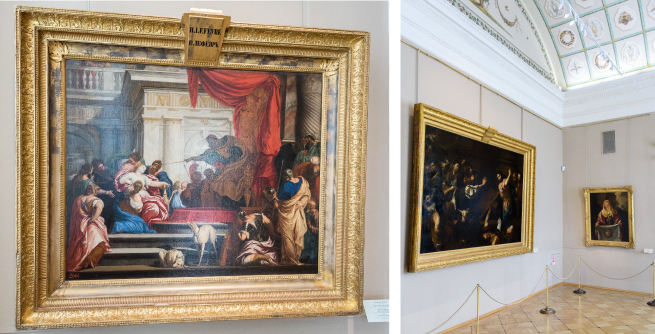 PROJECT
One of the most notable 18th Century French art works in hall 277 of the State Hermitage Museum in St. Petersburg, Russia, is 'Christ Driving the Money Changers from the Temple' by Valentin de Boulogne. Painted around 1618, this oil on canvas is particularly eye catching. Unfortunately, along with other works in the exhibition hall, much of the detail in the painting was difficult, if not impossible, to see under the existing lighting. The museum curators therefore decided to upgrade the lighting to enhance the visitor experience. International Lighting Engineering Corporation "Boos Lighting Group" was tasked with creating a lighting solution that both illuminated the gallery and highlighted the detailing and shading in the paintings.
SOLUTION
Boos matched their LED luminaires with LEDiL's CARMEN-50-S-C optic and HEKLA-I connector for the project. They used 8 GALAD VEGA luminaires for the general illumination of the hall and 16 GALAD Aphrodite luminaires, incidentally the first luminaire for museum lighting made in Russia, to illuminate the paintings.
BENEFITS
As can be seen from the before and after photographs, the visible end result has been a resounding success. Colours and skin tones are much more natural and vivid now, and the new lighting even manages to almost bring the story of the paintings to life. There is also compelling evidence the value of hall 277 has vastly increased with more people visiting and spending time in the hall than ever before.