CASE STORY
LEDiL PRODUCTS USED:
HB-2X2-RW
HB-2X2-M-BLIND
HB-2X2-RS
LUMINAIRE MANUFACTURER:
DURAY
DURAY is a leading Russian manufacturer of LED luminaires with almost 80 proprietary and 2500 modified luminaire lines. DURAY lighting systems are used in everything from office buildings and medical facilities to huge industrial warehouses and highways.
RELATED CONTENT:

Introduction to indoor architectural lighting

Case Story – State Hermitage Museum

Case Story – Fazer Visitor Centre

Case Story – The Basilica of San Francesco
BRINGING NEW LIGHT TO THE BELOGORSKY MONASTERY OF ST. NICHOLAS
"DURAY focuses on the quality of its luminaires and sets high standards for their components. We recognise LEDiL as a world leader and expert in LED optics and our partnership helps us to manufacture lighting systems of the highest standards. The luminaires designed by LEDiL and DURAY for this project perfectly highlighted the beauty and magnificence of the Belogorsky Monastery of St. Nicholas."

Demakov Vadim, head of joint stock company DURAY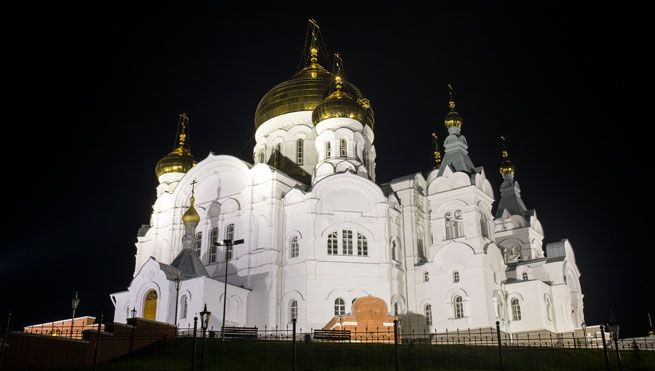 PROJECT
The Belogorsky Monastery of St. Nicholas lies 120 kilometres from the city of Perm, close to the Ural Mountains in Russia. First consecrated in June 1917, it is the largest cathedral in the Urals and has been under renovation since 1993. In 2017 LED lighting manufacturer DURAY joined the renovation project with the task of developing an architectural lighting system for the Monastery. The goal was to highlight the external architectural features of the building in a way that puts it in harmony with its surroundings.
SOLUTION
Given the architectural intricacy and detail of the building, DURAY decided to create a 3D model of the Monastery. This helped engineers estimate the number of LED luminaires and secondary optics they would need. DURAY chose a variety of LEDiL optics, HB-2X2-RW, HB-2X2-M-BLIND and HB-2X2-RS. Using the 10 pillars (5 and 8 meters high) around the Monastery as mounting points, DURAY used 33 of their LED Elbrus luminaires with LEDiL lenses, with light angles of 50°, 25°and 10°.
BENEFITS
The new architectural lighting system has raised the profile of the whole building while increasing the efficiency and reliability of the luminaires. DURAY succeeded in creating a solution that illuminates the whole building in the traditional white light typical of religious buildings in Russia. The architectural lighting solution creates a homogenous view of the Monastery from all viewing angles while accentuating specific architectural elements of the frontage.