CASE STORY
LEDiL PRODUCTS USED:
LUMINAIRE MANUFACTURER:
Ledax
LEDAX is a lighting fixture manufacturer with expertise in metallurgic processes and electronic engineering. Our nationwide commercial offices are located in São Bernardo do Campo/SP, Belo Horizonte/MG and Salvador/BA. Our market is corporate with customers requiring professional lighting and includes: industry, supermarkets, hospitals, hotels, shopping malls and others.
RELATED CONTENT:
Case story: Stadium lighting in Serbia

Case story: Grow-lighting for a football pitch in Germany

Introduction of area and car park lighting
THE STADIUM OF LIGHT
"Selecting a supplier is a matter of trust and partnership. We've been working with LEDiL since our company was founded in 2014. The local sales team supported all our designs and added real value to our product. The quality of LEDiL's products can be seen when measuring its products in the photometry lab. Since we had to send the lighting project to be approved by the responsible agencies before closing the deal, reliable photometric files for simulating the stadium lighting were important to evaluate and design the solution before manufacturing the fixtures."

Rodrigo Travi, Sales Director, Ledax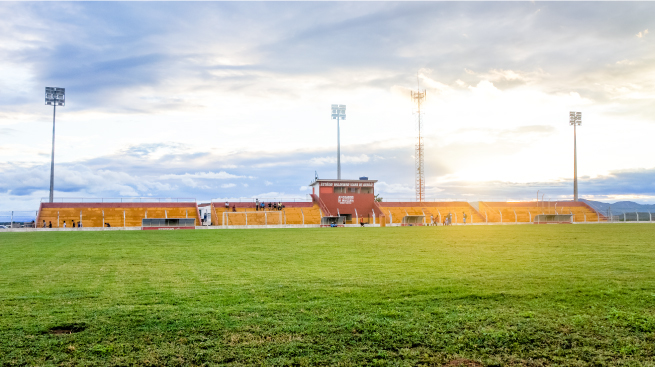 THE PROJECT
Promotion to the first division of the Pernambuco Football Championship for Brazilian team Afogados da Ingazeira meant their next season's home matches could be televised. Bringing in the cameras meant the current lighting in their home stadium of Vianão, completed in 1976, needed some serious updating; and looking good on TV isn't as simple as you might think.
The number, height and position of the floodlight poles had to be considered carefully, and as the luminaires are continuously exposed to a variety of weather conditions, any solution also had to meet IP66 requirements.
THE SOLUTION
Working to a tight budget Brazilian lighting fixture manufacturer Ledax was able to meet the specific demands of the project to satisfy all stakeholders. Customizing some of their existing products Ledax came up with a solution consisting of 30 1000W LED projectors using LEDiL's CS14130_HB-IP-2X6-W for the main field illumination. Ledax also added twelve 2000W metal vapor lamp reflectors to be used in conjunction with the LED fixtures for television broadcasts, when more light flux is required.
THE BENEFITS
The Ledax solution brings with it lower energy consumption, vastly improved luminous flux compared to traditional stadium lighting, and reduced maintenance costs thanks to an expected lifetime of 60.000 hours for the LEDs. The fact LEDs are at instant full power when turned on, compared to the several minutes needed for traditional vapor lamps, is also seen as an additional benefit.
Local dignitaries have also been very impressed with the new stadium lighting. City mayor, José Patriota, stated:
"Today we have a very welcoming stadium, with beautiful grass and now the most modern, powerful and economical lighting system for a soccer field. I congratulate our athletes, and it is an honour to have worked to make the first night match in the history of our city"
Evandro Carvalho, president of Pernambuco state soccer federation further stated:
"This is one of the most modern soccer stadium lighting solutions in Pernambuco state."