LIGHTING THAT SELLS
Get ready to ride the next wave in retail lighting with LEDiL
To compete with online competition brick and mortar retailers need to deliver an enhanced shopping experience. More than one research report has shown good lighting plays an integral part in both attracting customers and increasing sales.
Colonial Park Plaza, 72-store mall in Harrisburg, Pennsylvania updated their lighting system to receive more light and efficiency. Their appearance brightened, and more people started shopping.
---
GNC health and nutrition stores found that illuminating display end caps with additional lighting attracted 76 % more mall pedestrians into the store. They spent more time by the display end caps when they were illuminated, resulting in more sales.
---
Thalhimer Brothers Cloverleaf Mall in Richmond Virginia improved their 6 years old lighting system. They reported a $1 million sales increase and energy savings of $20,000 per year. The investment pay back time was under a year.
---
Source: Impact of quality of light on retail sales by Soraa simply perfect light, http://www.trueluxgroup.co.uk/wp-content/uploads/2014/06/Soraa-Quality-of-Light-in-Retail.pdf
But good retail lighting isn't just about improved visual comfort. Properly designed solutions that use optics to focus and control light also help support brand image. Light can also be used to affect mood and guide customers through a store with contrast drawing attention to selected offerings. Well designed lighting makes the retail environment and goods for sale more attractive to customers resulting in higher footfall and increased sales.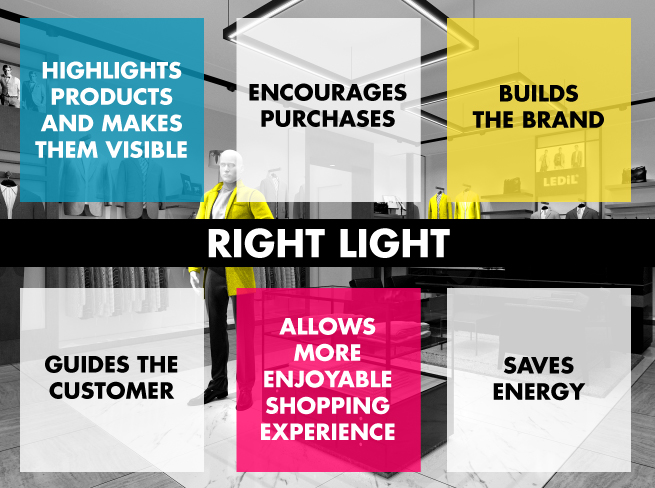 The key to good quality LED lighting is optics. The use of optics helps to achieve effective accent and contrast lighting without annoying spill light and colour-over-angle issues. But optics isn't just about improved visual appearance, it also reduces costs. Especially in supermarkets energy cost is a critical factor when choosing the proper lighting system. Switching to LED lighting already makes a huge difference, but with optics you can reduce energy costs ever further by directing the light exactly where it should be, without any light wasted.
LEDiL optics are specifically designed to help retailers surf ahead of their competitors; it's time to step up to the next level in retail lighting, are you ready?