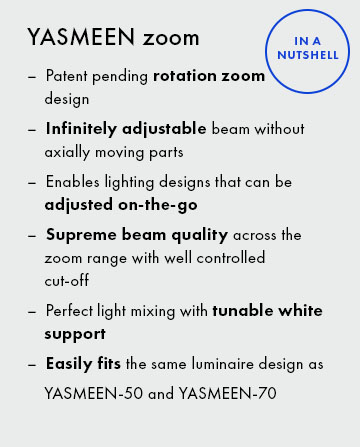 Photos taken at retail store Mer'ville (Salo, Finland)

Product page
Request samples
2D or 3D files
YASMEEN zoom – always optimised lighting
Superlative light quality and beam control with zoom optics
The ever popular YASMEEN product family welcomes its latest members, the patent pending zoom lenses: YASMEEN-50-ZOOM and YASMEEN-70-ZOOM.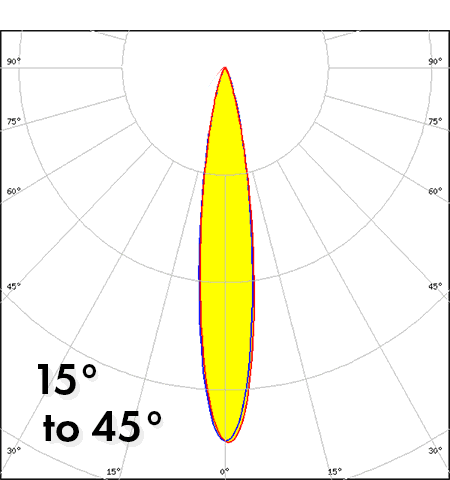 YASMEEN zoom optics are an innovative addition to the YASMEEN family that enable a whole new world of lighting possibilities thanks to their flexibility and adaptability. Constantly changing lighting concepts are always optimally lit, and lighting designs can be adjusted 'on the go' even without detailed upfront planning, to guarantee perfect lighting whenever and wherever needed.
See how lighting is easily optimised with YASMEEN zoom optics, no need to compromise – the lighting is always perfect.
With the same superlative light quality and beam control as the rest of the family, YASMEEN-50-ZOOM and YASMEEN-70-ZOOM have been designed with no axially moving parts. This offers designers the freedom to design track and downlight luminaires for both static and zoom lenses with little design limitations. The 70 mm diameter optic is optimised for 10 mm LES size COB and the 50 mm zoom optic version is optimisied for 6 mm LES size COBs.
The rotating zoom optics feature a 22.5-degree rotation angle and beam that can be adjusted from 15 to 45 degrees, all in a compact package without axially moving parts.

With well controlled cutoff throughout the zoom range YASMEEN zoom optics support perfect light mixing with tunable white. YASMEEN zoom optics are also easy to attach using HEKLA, BJB, and B+W connectors with holders, or alternatively attached with a flange.
YASMEEN zoom optics are the perfect choice for compact, energy efficient retail lighting luminaire designs that demand supreme light quality and the flexibility of easy to adjust zoom optics in a single luminaire.
If you would like to learn more about zoom optics, please contact our sales.
You can download IES files on the product page.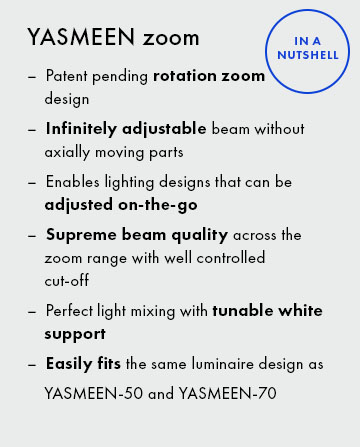 Photos taken at retail store Mer'ville (Salo, Finland)

Product page
Request samples
2D or 3D files