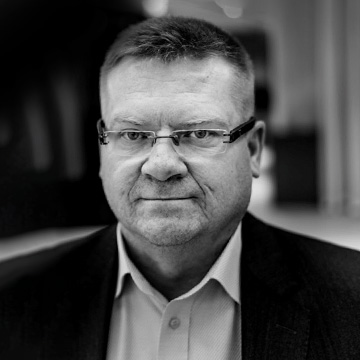 Related articles
The strongest Q3 performance of all time
Article by Petteri Saarinen, LEDiL CEO
Article by Petteri Saarinen, LEDiL CEO
Article by Petteri Saarinen, LEDiL CEO
Article by Petteri Saarinen, LEDiL CEO
Article by Petteri Saarinen, LEDiL CEO
The strongest Q4 and full year performance of all time
2021 was a great year, the highest all-time performance in LEDiL's history. Despite the pandemic, global logistics challenges, and component shortages, we not only experienced growth with sustainable profitability, but also lived according to our values in addressing our sustainability objectives. We didn't just reach our goals, we exceeded them. I am so thankful for the ongoing commitment and responsibility that LEDiL's team members have continued to show during 2021. Once again you have done a fantastic job in driving LEDiL's performance, every day.

LEDiL continued producing record-breaking order flows and revenues in Q4. Our organic growth in the quarter amounted to 27% compared with last year's Q4, driven by continued strong indoor and outdoor segment performance, especially in Europe and North America, making this quarter the highest all-time Q4 in LEDiL's history. Order intake continued to be high, resulting in the biggest ever year end order backlog.
Performance for the entire 2021 financial year was great. We went through the hardship of a change program under harsh market conditions towards the disciplined execution of our business plan. We have come out much more resilient, ready to respond to strong demand with increased efficiency.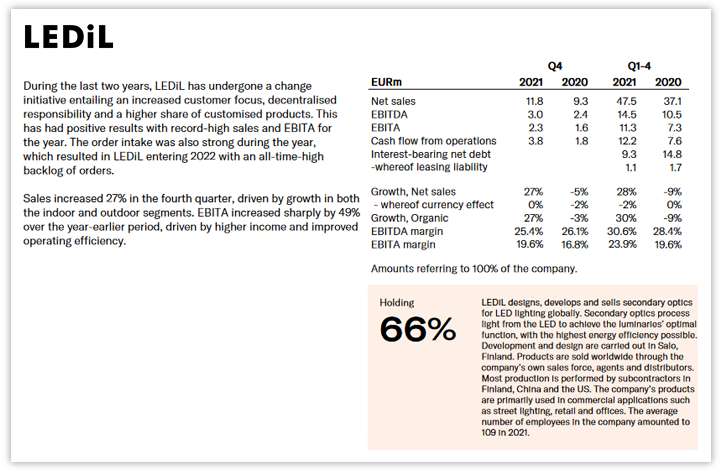 For more information on LEDiL as well as RATOS AB and its group companies' quarterly results, click on the link: https://www.ratos.com/globalassets/reports-and-presentation/2021/year-end-report-2021.pdf
We have established a very firm business plan to guide us on our growth journey, including various operational excellence initiatives we continue to execute. Under the prevailing distressed global business environment, we remain focused in seeking ways to continuously improvement. Sustainability ambitions increasingly guide the industry and also drive LEDiL's everyday decisions. As a responsible industry player, LEDiL, want to be involved in shaping the future for coming generations.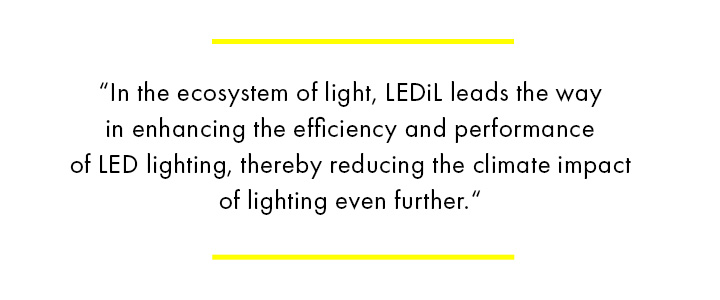 Our strong performance in Q4 and numbers for the whole of 2021, enable LEDiL to drive development in enhancing our offering and performance, enabling increased customer benefits while creating sustainable value for all stakeholders.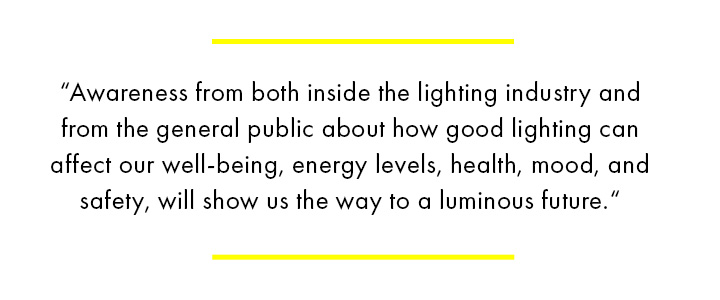 Despite our recent success, we remain humble, and extend a big thank you once again to all our valued customers and partners who continue to place their trust in us. We are committed to working hard enabling you to reach your goals.
Stay well and healthy!
Petteri Saarinen
President & CEO
LEDiL Group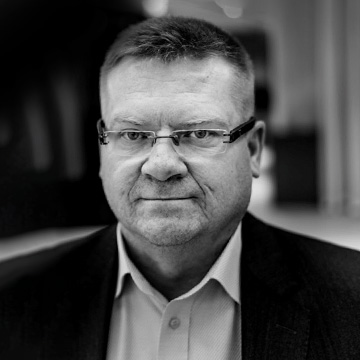 Related articles
The strongest Q3 performance of all time
Article by Petteri Saarinen, LEDiL CEO
Article by Petteri Saarinen, LEDiL CEO
Article by Petteri Saarinen, LEDiL CEO
Article by Petteri Saarinen, LEDiL CEO
Article by Petteri Saarinen, LEDiL CEO