NEWS
RELATED CONTENT:


Introduction to retail lighting




CLAUDIA for retail lighting




LED optics for retail
GO TO NEWS ARCHIVE
LINNEA-GC-90 - THE AESTHETICALLY PLEASING CHOICE FOR DEMANDING RETAIL LIGHTING APPLICATIONS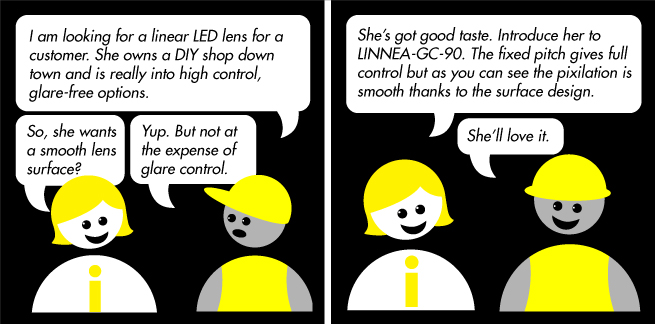 An extension to the popular LINNEA product family LINNEA-GC-90 provides a uniform lit surface with improved glare control. The aesthetically pleasing design makes LINNEA-GC-90 especially suitable for retail environments where visual appearance is important.
LINNEA-GC-90 has a fixed pitch of 30 LEDs and is mechanically backwards compatible to give access to the whole LINNEA family, with its wide variety of beam patterns. Future releases will include 60 degree and oval beams, further extending the LINNEA family to make it one of the most comprehensive range of optics for a wide variety of applications.