ILLUMINATING SUPERMARKETS WITH LEDiL OPTICS
The very best general, aisle and high bay lighting solutions
Lighting is a key element of any retail environment. Given their often large size, lighting solutions for supermarkets and hypermarkets can be especially difficult. By working closely with luminaire manufacturers and supermarket owners LEDiL have designed a range of solutions to make products and produce stand out in these challenging retail spaces.
GENERAL LIGHTING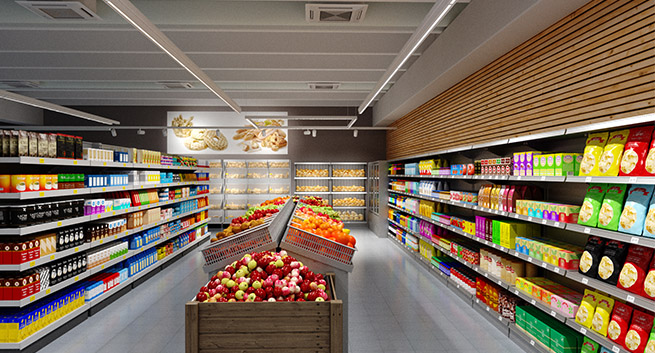 LEDiL offer supermarket owners a variety of flexible optical solutions for replacing outdated fluorescent lighting. Two simple and popular concepts to create uniform illumination are to install linear luminaires in semi-continuous lines or evenly spaced grids. Another great option is to install track light spots, a common and popular solution for highlighting specific product categories or selected product displays.
AISLE LIGHTING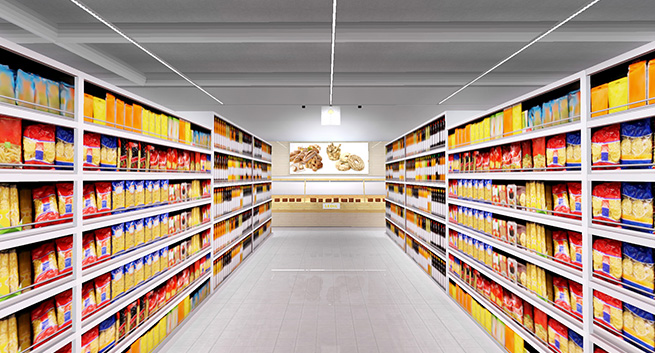 Aisle lighting is especially important to the supermarket retail environment. To ensure lighting is evenly and efficiently distributed on the shelves, luminaires need to be located in the middle of the aisle. Both symmetric and asymmetric light distribution is used in aisle lighting. Linear luminaires with symmetric light distribution provide higher lighting levels on the floor when shelves are illuminated with sufficient light levels. In contrast, linear luminaires with asymmetric light distribution are more effective for vertical illumination and can produce twice as much brightness on the shelves compared to the floor.
LINEAR LUMINAIRE EXAMPLES WITH LEDiL LINEAR OPTICS

We have created five linear luminaire examples using our linear optics – LINDA, CLAUDIA, LINNEA, LINNEA-GC and FLORENCE. They are all perfect for general and aisle lighting concepts.
Choose the right optics for your linear luminaire needs from the table below.
Optics
LINDA
CLAUDIA
LINNEA
LINNEA-GC
FLORENCE
Size (mm)
1140 x 26
279 x 29
285 x 40
285 x 40
286 x 61
Beams
WWW, WW,

W60, O,

ZT25, Z2T25,

UP
90, 60,

Z2T25
90, 60,

O, ZT25,

Z2T25, UP

90, 60,

O
Z90, Z60,

Z30, O,

ZT25-S, ZT25
Material
PMMA
PMMA
PC

PMMA

PMMA
PMMA

PC (IP versions)

Pitch
Free
Fixed
Free
Fixed
Fixed
Zhaga compliant
Yes
No
Yes
No
Yes
Glare optimized
Description
Compact extrusion lens for seamless continuous installations with great colour and surface uniformity.
Compacts lens with excellent glare control and the possibility to use a 2 LED cluster under each individual optic.
Versatile wider lens for lower UGR, better light control and good surface uniformity.
Great aesthetics with the lights on. Good surface uniformity with excellent optical and glare control.
The original and best 3-row lens family with market leading colour uniformity, visual comfort and glare control.
HIGH BAY LIGHTING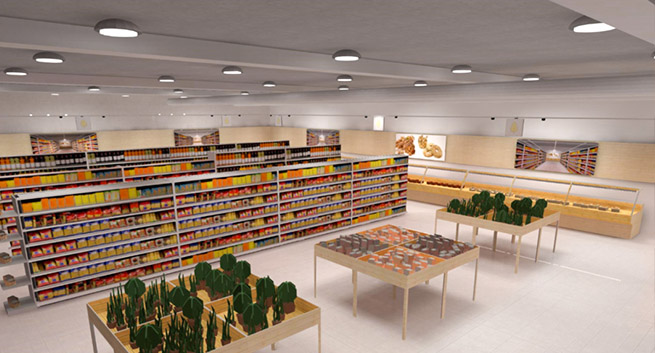 High bay lighting is the solution of choice in hypermarkets and other retail areas with high ceilings. High bay lighting is easy to install, has a low number of luminaires and with controlled optics producing a narrow beam glare reduction is vastly reduced. Combining high bay lighting with additional track lighting gives supermarket retailers the freedom to highlight specific displays or promotional products.