New products – March/April, 2023
LEDiL's award-winning zoom portfolio welcomes AMY variants.
The compact lens family AMY now includes three new zoom variants in 45 mm, 50 mm, and 70 mm sizes, bringing the total number of zoom variants to five. This allows for all types of luminaire designs, from small pocket devices to larger slim track lights.
With the latest addition of AMY zoom variants, LEDiL now offers a comprehensive portfolio of zoom technology for all kinds of luminaires.
> Read more
> Go to product page
> Request samples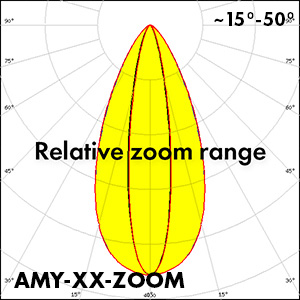 LEDiL's AMBER lenses cut down the blue light spectrum from white light LEDs to provide safer lighting for night-time surroundings.
W: ~50° wide symmetrical beam for industrial lighting.
DWC: Universal road lighting beam with excellent mixed illuminance and luminance uniformity. Typically IESNA Type III (medium).
T3: IESNA Type III (medium) beam for roads that are equal to or wider than mounting height.
> Read more
> Go to product pages
> Request samples
For uniform, glare-free office lighting.
DAISY-7X1-BW, our newest addition to the DAISY family, is an excellent choice for general office lighting. It provides superb surface uniformity on illuminated objects or surfaces due to the batwing-type beam of the lens.
> Read more
> Go to product page
> Request samples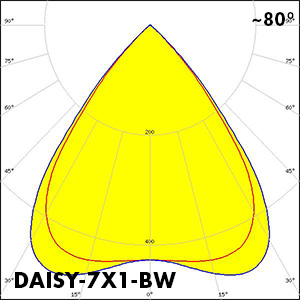 Experience the power and elegance of our tight spot beams.
We are pleased to introduce new real spot beams that provide just the right balance of optical and aesthetic elements. YASMEEN-70-RS is ideal for track lights, with supreme light quality and appearance. AMY-50-RS and AMY-70-RS are ideal for slim, elegant track and downlights. The new spot beams share the same beam shape as well as a tight cutoff that makes them ideal for high-contrast lighting and highlighting objects even from a longer distance.
> Read more
> Go to product pages
> Request samples