DAISY – the definitive LEDiL Dark Light family for indoor lighting
New colours, sizes and beams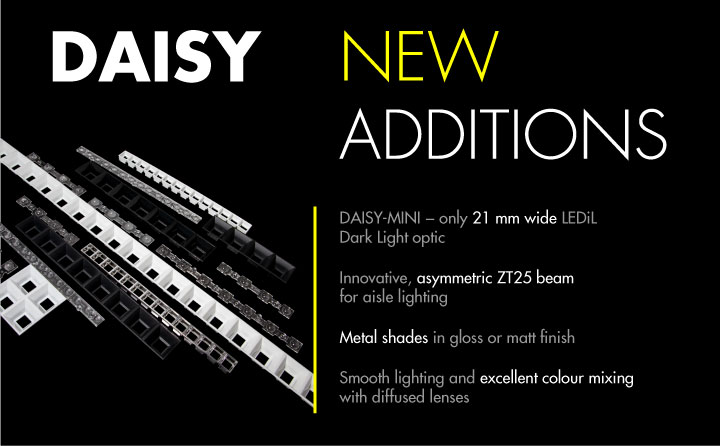 With a comprehensive variety of variants, DAISY is a family of low glare optics for premium office, retail or any other general lighting. It is the ideal fit in unobtrusive, discrete Dark Light lighting setups where the light source is barely visible.
DAISY includes 28X1, 8X1, 7X1, 4X1, 2X2 and MINI variants and is available in black, white and metal with a gloss or matt finish.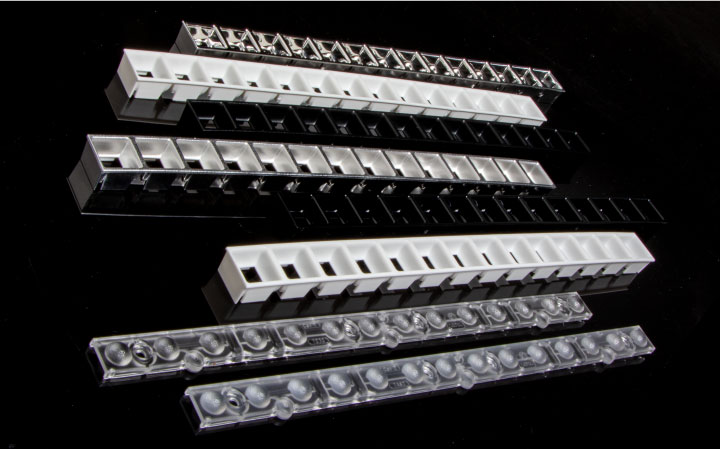 DAISY comes in 50˚ and 80˚ beams and DAISY-7X1 also comes with an asymmetric ZT25 beam that enables the creation of innovative track fixtures meaning supermarket lighting doesn't need to be linear or cover the whole aisle length anymore.
Optics are available with clear lenses for accurate beam control or diffused lenses for smooth lighting and excellent colour mixing.
DAISY is suitable for recessed and suspended linear, downlight and even track module luminaires, combining great aesthetics with efficiency and tunable white performance.
DAISY is optimized for 2835 and compatible with up to 5630 size mid-power LED packages and up to 4 ft long PCBs. Compatible LED modules are available off the shelf from many of our partners such as Samsung, Tridonic, Cezos, MST, Seoul Semiconductor and Tepcomp.