SPORT-2X2-S1 provides a highly efficient narrow beam that can illuminate playing fields with superb candelas and uniformity from a great distance. In addition to its performance and suitability for different sports the S1 can help reduce sky glow outdoors.
Thanks to excellent beam control, only around 1 % of light leaks above the horizon level (ULR – Upward light ratio), and trespass light in the surrounding area is kept to an absolute minimum. This makes the SPORT-2X2-S1 a perfect fit for everything from the biggest stadiums and arenas to rural or residential areas where nuisance light needs to be kept to a minimum.
VICTORIA-MINI optics are designed for <100 W luminaires to provide 5 000 to 20 000 lumens with ease. The round optic design of just 180 mm in diameter is packed with 80 lenses coated with LEDiL's patented RZ-surface to avoid disturbing colour-over-angle problems.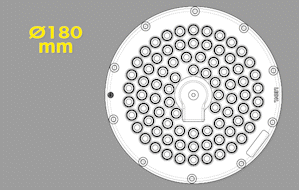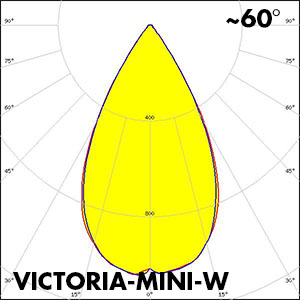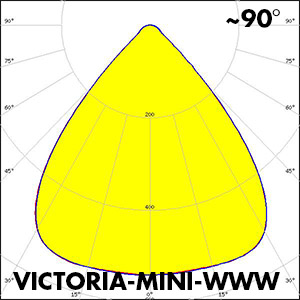 Lenses are available in both PMMA and PC and can be used with a silicone seal to provide ingress protection against dirt, dust and water.
Installation is fast and simple using 10 M4 screws, while an optional installation clip can be used to maintain lens performance, even at high temperatures. See more about installation and performance from the links below.
> Installation instructions
> Application example: Factory floor lighting with LEDiL VICTORIA-MINI
Take your highbay, retail or catenary lighting to new heights
and lumens with LEDiL VICTORIA-MINI.
Metro Zero One – a hero of sustainable architectural and lighting design
"We started the design for this ground breaking project producing more energy than it uses in 2017, and were therefore looking for a state-of-the-art, efficient optic. We found it in the innovative LINNEA family and for this lighting concept we used the LINNEA-90 optic."

Murat Cap, Owner, Luxwelt
Project
Metro Zero One is a revolutionary cash and carry located in St. Pölten, Austria. Made entirely of wood, the building is considered a milestone in sustainable construction, producing more energy than it uses. Such a unique and ground breaking building naturally required an equally unique and ground breaking lighting design. With a long history of delivering innovative solutions German lighting design company Luxwelt were ready for the challenge.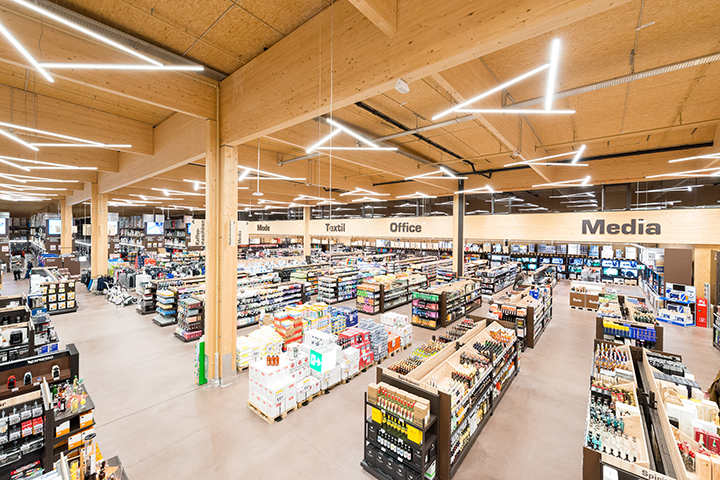 Solution
Using LEDiL
LINNEA-90
optics Luxwelt designed a series of transparent single row floating luminaires they named '3Angle'. The new lighting solution exists in seamless partnership with the building's architecture. In the large and spacious entrance area Luxwelt installed round 3D-lights that create an abstract pattern generating an individual and welcoming atmosphere which flows naturally into the "3Angle"-concept.
Benefits
Metro Zero One is a milestone on the road to raising environmental awareness in the retail industry. In this flagship project Luxwelt have managed to emphasise the wooden architectural construction of the building with a modern, energy efficient daylight controlled lighting design that integrates perfectly with the building's photovoltaic system on the roof.
Outdoor lighting enhances the beauty of nature in a Riga park
"BOOM reflectors from LEDiL were a great solution for our park luminaires as they allowed us to achieve good colour uniformity and quality for illuminating the trees."

Maxim Tronyaev, Chairman of the board Ledal Studio
Project
Parks are important open spaces for residents in built up urban areas. They offer a place to relax and unwind from the often hectic speed of daily city life. With the right lighting, city parks can be as beautiful and tranquil at night as they are during the hours of daylight. This was the challenge Ledal Studio faced when they were presented with a project to illuminate Zandarti, a suburban park in the Latvian capital, Riga. The brief was to create a colourful illumination to highlight the natural beauty of the park trees and light up the night.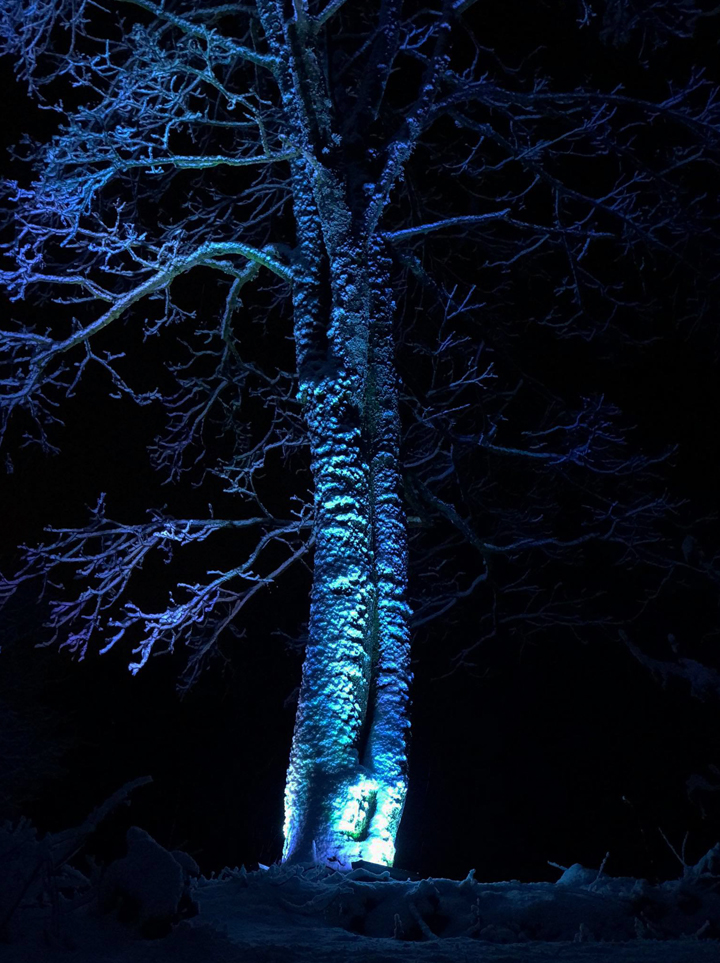 Solution
Ledal Studio created a lighting design that highlights the natural landscape of the Zandarti park. Using LEDiL
BOOM-M
reflectors to achieve good colour uniformity they created a lighting effect that beautifully illuminates the trees in a variety of different colours.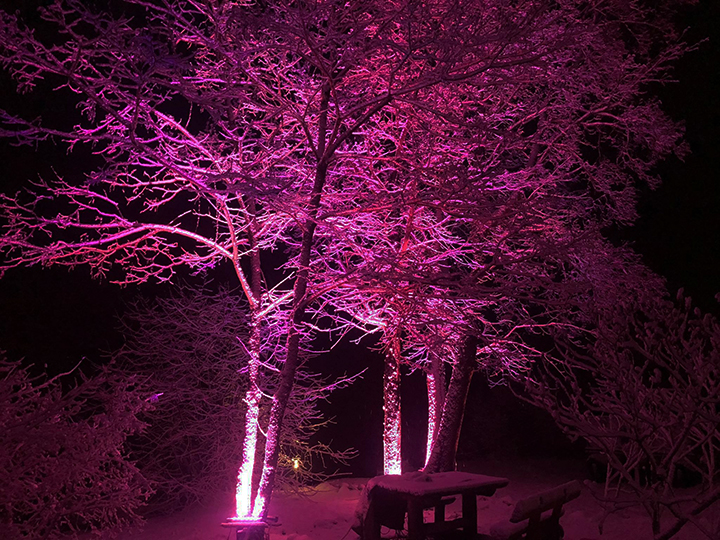 Benefits
Thanks to the new lighting design the park is a place of colour and beauty that can be enjoyed by residents and visitors as much at night as during the day.Read more about
VIOLETTA
optics or
contact us
for more information.
Small silicone lenses for UV-C applications
The new VIOLETTA single lenses expand the LEDiL portfolio of highly efficient LED optics for professional UV-C disinfection. The lenses share the same footprint as our well-known ROSE-product family with a low profile allowing for a wide variety of compact luminaire designs.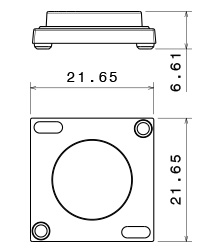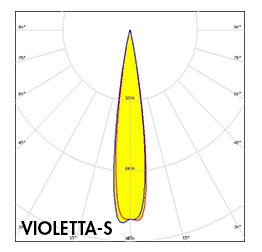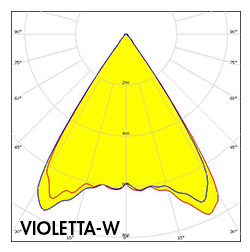 The lenses provide over 80 % efficiency at 280 nm wavelength and the soft silicone provides easy ingress protection against water, dirt and dust when using a sandwich mount between the luminaire faceplate and the PCB. See our luminaire example below.

Possible applications include handheld sanitisers, hand dryers, drinking bottles and any other small UV-appliances.
Please contact us for samples and more information.

Read more about
VIOLETTA
optics or
contact us
for more information.
Performs when you need it the most
The three new beams
ER1
,
ER2
and
AP1
are designed for emergency exit route and anti-panic lighting applications with up to 5050 size LED packages. ER1 is ideal for 2 to 5-meter mounting heights and ER2 for anything higher. AP1 is our first lens especially designed for anti-panic lighting, delivering uniform, highly efficient results.
Four different setups using EMERALD-AP1 optics for escape route lighting.
Three different setups using EMERALD-ER2 optics for escape route lighting.
Three different setups using EMERALD-ER1 optics for escape route lighting.
OSEAN choose STELLA optics for high performance underwater floodlight
"LEDiL is our trusted partner because it has a range of high quality performance optics, but most of all because of the close follow up which is provided in order to help us to reach our objectives."

Nathan Jallet, Sales engineer, OSEAN
Project
Seawater is a highly corrosive environment for any equipment, let alone lighting. But it is an environment in which products designed by underwater technologies specialist OSEAN thrive. With a 20m+ long beam and 70,000 lm of luminous flow their 400W underwater LED floodlight is currently the most luminous and efficient underwater lighting device in the world. It is also the only underwater floodlight offering a range of wide and narrow beam angle going from 100° to 25° making it perfect for the underwater illumination of bridges and marina enhancement.
Solution
Wanting to offer their customers a wide range of beam angles OSEAN chose the LEDiL
STELLA
range as it is the only optic adapted to such a powerful and restrictive floodlight. OSEAN currently use 4 different optics from the STELLA family;
STELLA-FRESNEL
,
STELLA-HB
,
STELLA-HB-WWW
and most recently
STELLA-RS
.
Benefits
As light dispersion in water is much more difficult than in the air, other manufacturers could only offer a single beam angle. With the help of LEDiL, OSEAN succeeded in creating and designing a range of wide and narrow beam angles which offer users the ability to adapt their underwater lighting service to a specific project, whether it is for professional needs or for aesthetic purposes.
The LN1 and T1-M beams complement the STRADA-2X2 beam offering for luminance based roads. The LM1 and LW1 beams released earlier this year were designed for wider roads, while the new LN1 is an ideal solution for high poles and narrow roads and the T1-M for bike paths and walkways.

LEDiL's VIOLET is the first standard silicone optic especially designed for professional UV-C lighting – with two new beams now available.

VIOLET-RS has a narrow 14-degree light distribution and therefore provides a great peak and greater reach than any other VIOLET version. This makes VIOLET-RS the perfect solution for UV-C applications that need to cover long distances such as upper air disinfection.

VIOLET-W has around 60-degree light distribution allowing a wider and efficient spread from close distances.

All VIOLET optics are ingress protected and come with a stainless-steel frame.

Contact our sales team to learn more about VIOLET and check out our application examples for UV-C using VIOLET below.
LEDiL STRADA optics direct light on Nikis Avenue in Thessaloniki, Greece
"STRADA-IP-2X6 family has a wide variety of optics that met the requirements and offered and ideal solution for this project. Moreover, the IP67 rating provides sufficient protection in by the sea applications."

Spiros Tsiolakis, R&D manager of AFOI TSIOLAKI OE
Project
Stretching 1.3 kms along the seafront, Nikis Avenue in Thessaloniki, Greece, is the busiest street in the city. Popular with locals and tourists alike the Avenue is a busy thoroughfare full of thriving bars, cafés and restaurants. When the city decided to upgrade the existing street lamps to LED they appointed local company AFOI TSIOLAKI OE to design the new lighting.
Solution
The avenue is used by cars, cyclists and pedestrians so it was important the new lighting considered all users. AFOI TSIOLAKI used DROMOS-X, a versatile retrofit kit suitable for historic lanterns. The system used 3 types of LEDiL STRADA-IP optics; STRADA-IP-2X6-DWC-B, STRADA-IP-2X6-T2-B and STRADA-IP-2X6-VSM. The optics were combined with Techlumen TL12 LED modules equipped with Bridgelux BXEP 5050 LED chips resulting in a total power consumption of just 120W compared to the 250W Sodium Lamps of the old system.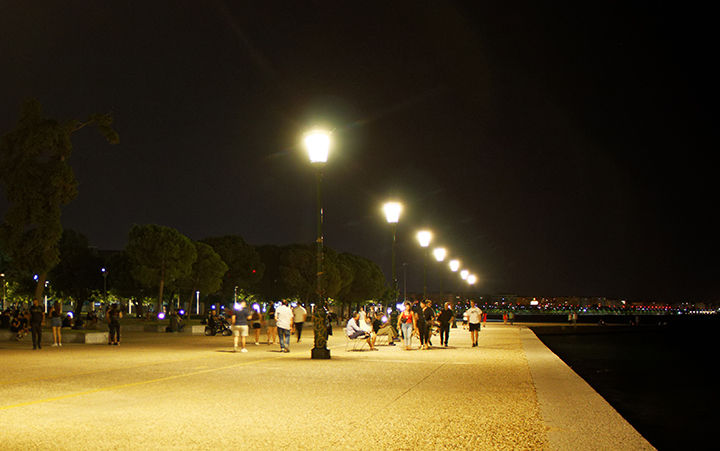 Benefits
In addition to improved lighting in terms of increased luminance, better colour rendering and lower glare, the city saved more than 67% in energy consumption and, thanks to Techlumen's 8 year warranty, minimized maintenance costs.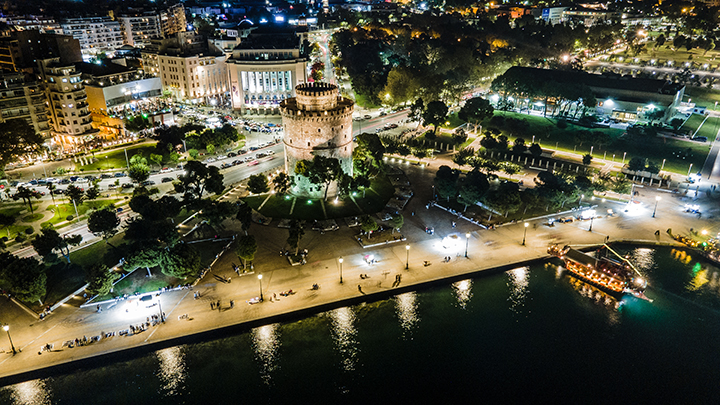 Ambiflux uses STRADA optics for smart motorway lighting
"We chose LEDiL because of its high efficiency and great stability of performance over time. This is in alignment with our philosophy of providing excellent efficiency and long lasting lighting solutions."

Cosmin Fence, CEO of Ambiflux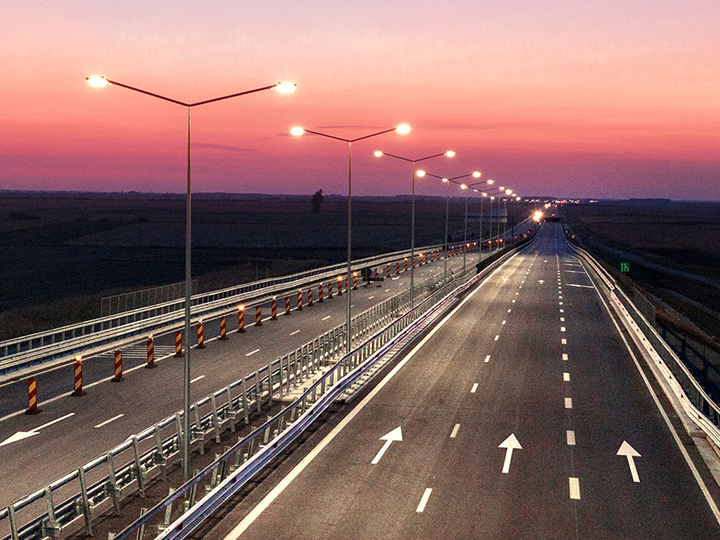 Project
The newly built A3 motorway on the Hungarian border connects Romania with Western Europe and will eventually stretch all the way to Transylvania. Safety is always an important factor in new road design and lighting plays an important role in ensuring the safety of all road users. Ambiflux were chosen to design a lighting solution powerful enough to ensure road safety but also energy efficient and designed to avoid light pollution.
Solution
Ambiflux chose to use 200 Ambiflux Traffic luminaries fitted with LEDiL STRADA-IP-2X6-DWC and a further 100 with LEDiL STRADA-IP-2X6-VSM, to obtain a consistent level of surface illumination. Specifically designed for street lighting, the design of the STRADA optics used ensures shadow free, even light distribution. The lamps are also fitted with a smart module that dims the light when there are no cars on the road to reduce energy consumption and light pollution.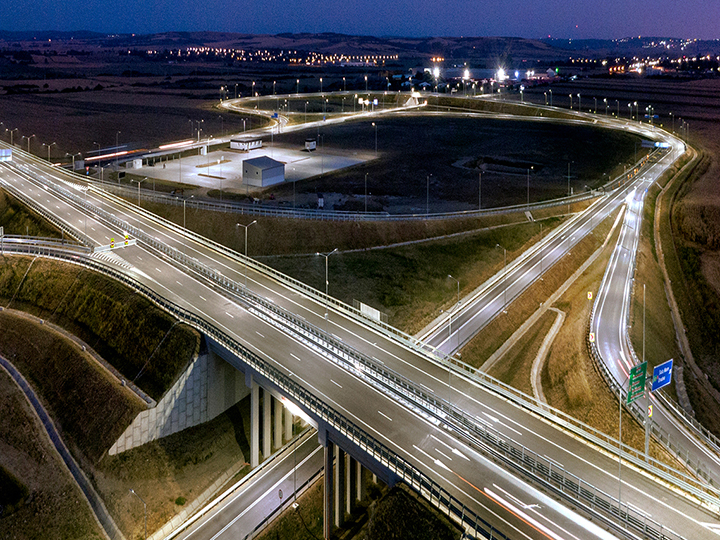 Benefits
Ambiflux Traffic luminaries ensure the motorway is well lit when needed, meeting lighting standards and regulations, whilst providing significant savings when there is no traffic.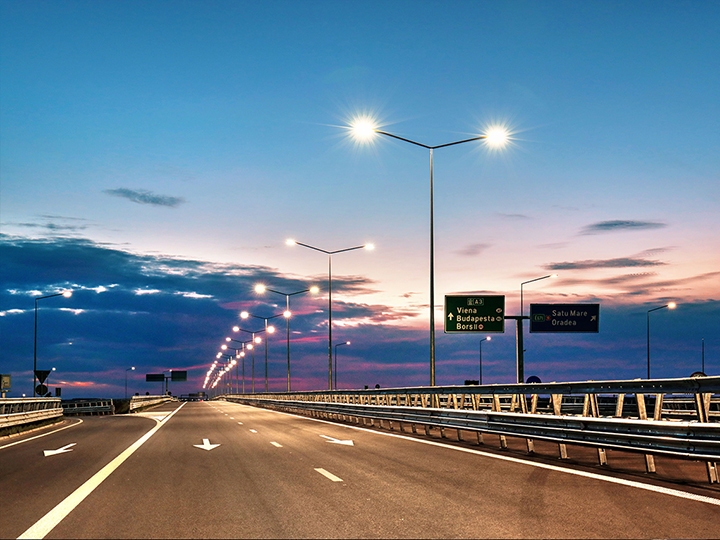 Lumitronix use LEDiL VIOLET optics for their new UV-C LED modules
"We decided to work with LEDiL in this application, because the Violet lens system offers the highest performance available on the market for linear UVC applications in these mechanical dimensions."

Volker Kokula, Head of R&D, Lumitronix
Project
Lumitronix UVC LED modules use the LEDiL UV-C VIOLET optics to offer professional users highly efficient solutions for disinfection and decontamination. The 12 UV-C LEDs used, emit a wavelength of 275 nm enabling immediate sterilization and cleaning of air, liquids and surfaces ensuring bacteria, germs and viruses are reliably removed.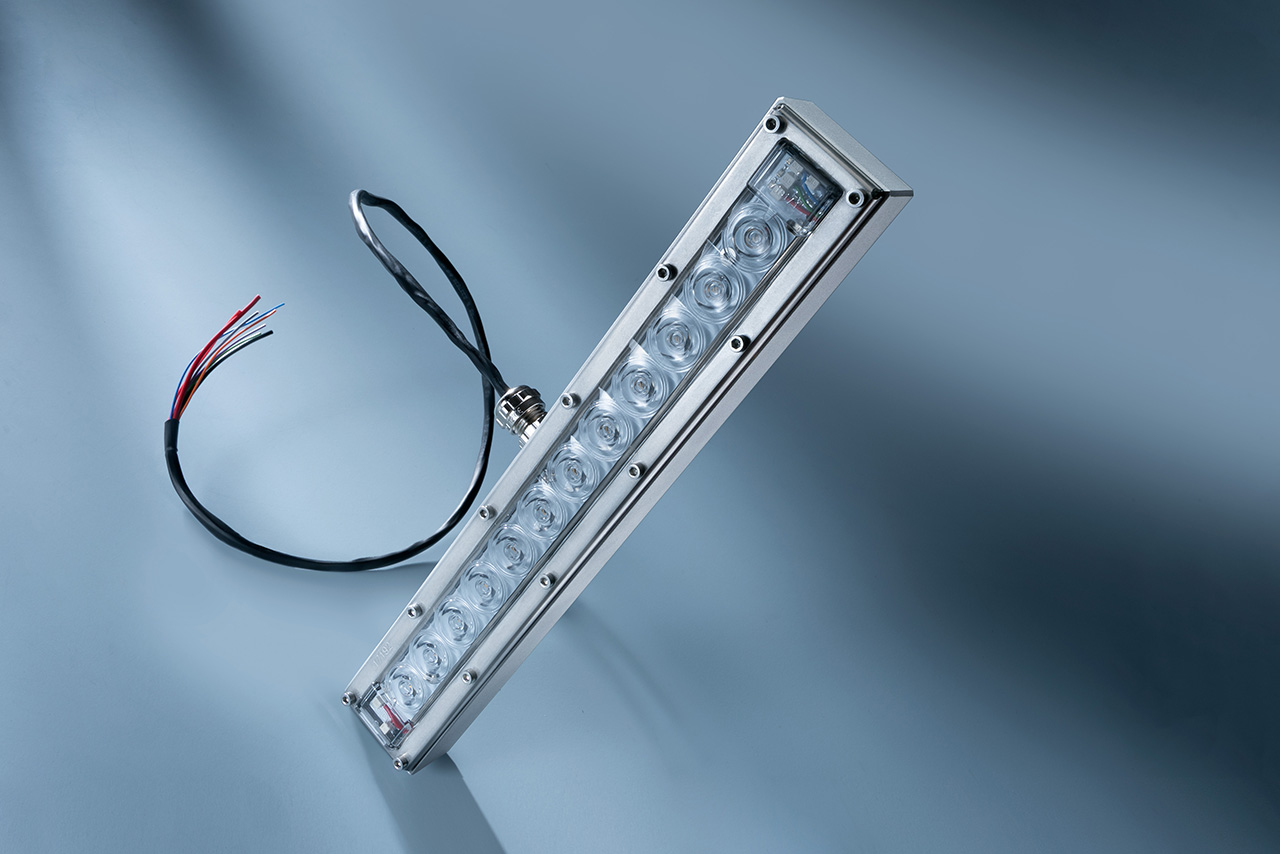 Solution
With their slim and compact design, measuring just 30 cm long and 4cm wide including housing, the modules stand out from the competition. Depending on the application, customers can choose between a ready-to-use system (UVC LED luminaire with Lumitronix control unit for safe operation) or purchase just one UVC LED module, which can be integrated into an existing control concept on the customer side.

Clear version for high contrast aisle lighting and diffused version for perfect colour mixing
LEDiL's highly popular DAISY Dark Light family has grown with the addition of a one-sided asymmetric beam in 7X1 format. As with other members of the DAISY family DAISY-7X1-ZT25 comes with low glare and good cut off preventing light leakage from one aisle to another. This makes this optic an ideal choice for innovative track fixtures that look good and do not cover the whole aisle length like traditional linear luminaires do. The result is a stylish and cost-efficient lighting solution for modern supermarkets.

Compared to traditional linear solutions track modules are up to 10 times smaller, have perfect beam control with minimal glare and are more energy efficient with most of the light directed to the shelves not the floor. Highly efficient, high contrast aisle lighting can easily be achieved with DAISY-7X1-ZT25 track modules creating the perception of brighter goods on shelves with fewer lumens compared to a traditional linear luminaire.
Modern lighting illuminates ancient artefacts in Moscow Paleontological Museum
The Moscow Paleontological Museum is one of the largest natural history museums in the world but with a lighting system dating from the 1980s the exhibits are not always displayed at their best.
The workshop «Light Landing: How to illuminate Dino» arranged by Laboratoria sveta (Laboratory of Light) was held at the Paleontological Museum with the aim of offering the museum administration options for ideological and technical modernization of the existing lighting.
The workshop focused on the complex task of lighting hall 4 which houses exhibits from the Paleozoic and Mesozoic periods.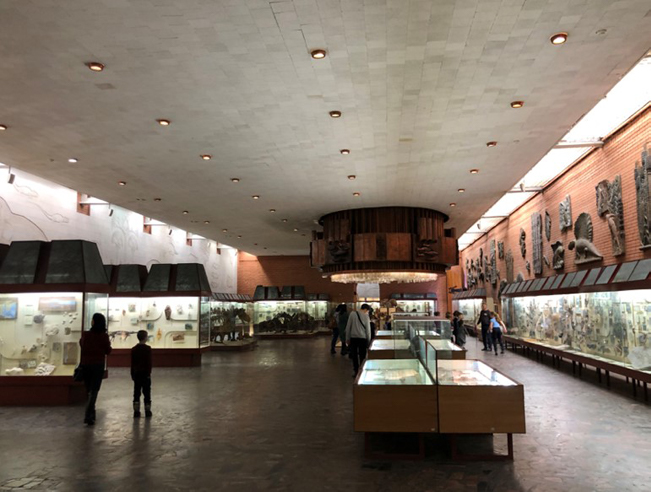 Workshop participants had an opportunity to work with lighting equipment provided by different companies. In this article the results of experiments conducted with LEDiL products will be highlighted.
The experiment started with an interactive window at the entrance which required a light accent created using ILONA-SS lens with a 15° beam angle. The ILONA family of lenses was developed by LEDiL specifically for accent lighting for museum exhibits. The lenses provide uniform lighting with a beautiful cutoff and, unlike reflectors, have minimum spill light.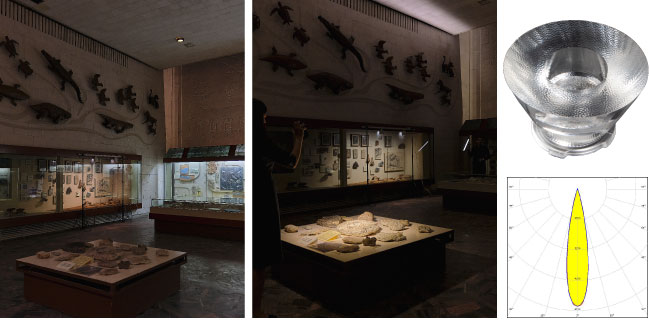 The next task was to create optimal lighting for the display cases to highlight the exhibits without the reflections and shadows caused by the current lighting. The team tried linear lenses from the LINDA family, made using extrusion technology. LINDA is easy-to-install and available in different lengths up to 6 m long making it ideal for use in the different sizes of display case. Asymmetric type ZT25 light distribution allows light to be directed at an angle of 25-30° ensuring all light emitted is directed at the objects and no light is lost. Linear optics help avoid sharp shadows and offer a modern alternative to the existing fluorescent lamps.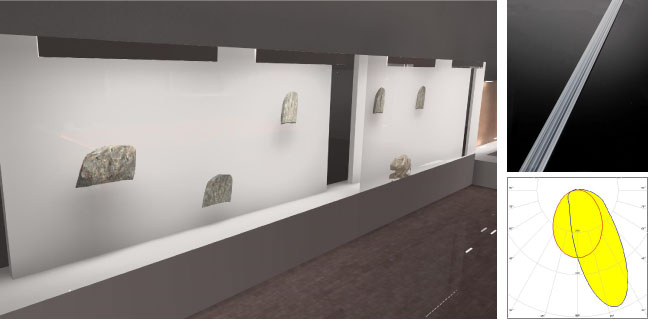 Lighting was also needed for the massive stone slab located between the display cases. The stone has a rough multicoloured structure with bulges and depressions in which the outlines of fish and amphibian fossils are visible and that the new lighting would highlight. The designers chose LILIAN-ON lens as it is specifically designed for wall grazing, has a 10° × 60° oval beam and works with free-pitch linear PCBs. The result is spectacular with the lighting emphasising the fossils and the structure of the stone.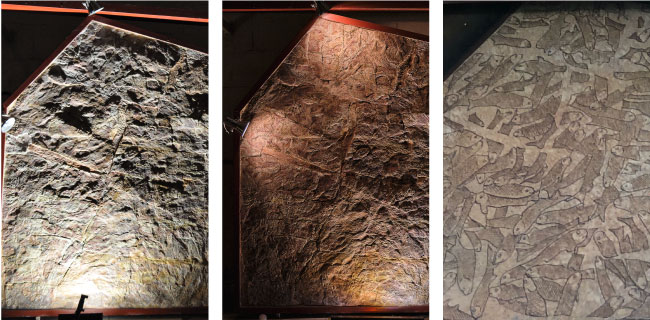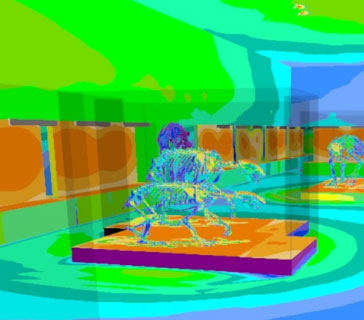 To illuminate the various skeletons ILONA-SS lenses were used to create a light accent on the head while ILONA-W and WINNIE-O lenses were used to illuminate the body. The lenses provide uniform lighting and work with small COBs. They can be used to form oval light spots and illuminate the long bodies of lizards and rectangular display cases without glass.
The work continued with the lighting of the exhibition dedicated to Scutosaurus which was illuminated too brightly causing unpleasant glare. The team reduced the level of general illumination and installed OLGA lenses to create accent lighting directly focused on the exhibits.

The final task was to illuminate the entire skeleton of a Scutosaurus that has a length of about 3-3.5 m. For uniform illumination of such a large dinosaur, you need a lens with a wide beam angle and good cutoff to minimize the glare. DAHLIA-TL110 originally designed for horticultural lighting and therefore equipped with blue-red LEDs, was tried for this task.
The result of this experiment demonstrates that LEDiL optics cope perfectly with complex lighting tasks.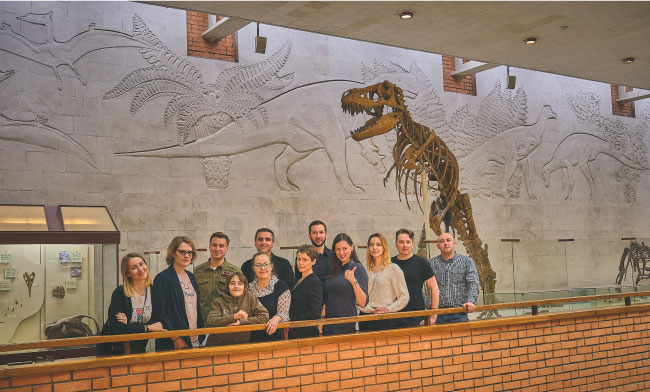 Candela Co. Ltd score a victory
with new lighting for Victory Square
in Saint-Petersburg
"We chose LEDiL because of its highest quality,
wide product range and great support team"

Pavel Tcvetkov, Deputy Director General
PROJECT
Saint-Petersburg Victory Square is home to the Monument to the Heroic Defenders of Leningrad, commemorating the victims and survivors of the Siege of Leningrad.

Erected in 1975 this important memorial, full of historical significance, found itself standing in a world of shadows cast by seriously outdated lighting. Using the latest optics and the lighting distribution they offer, Candela Co. Ltd stepped in to design a bright, modern solution to illuminate Victory Square as it deserves.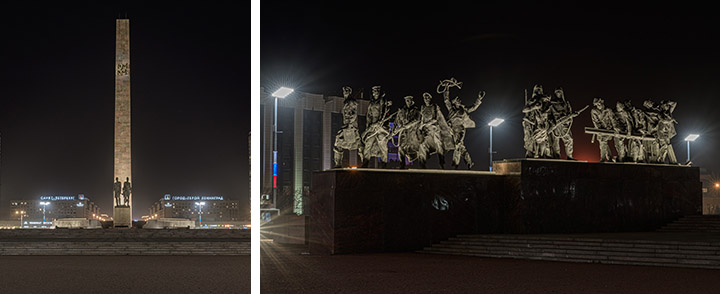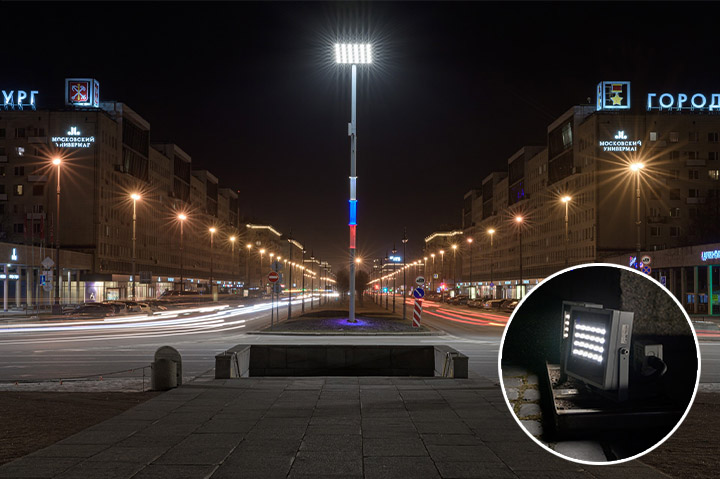 SOLUTION
The project uses 7 types of LEDiL lenses: Narrow-angle VERONICA-SQ to illuminate the lighting poles; IRIS to highlight the obelisk; FLARE-MINI and LARISA-O to provide floodlit illumination of the Square's open spaces and granite structures. The central part of the memorial is illuminated using a combination of SHELLY lenses while LISA2-WWW wide-angle lenses are used to illuminate the bottom of the Broken Ring memorial. Finally, SEANNA ultra-narrow-angle lenses were installed in powerful spotlights to create visible rays converging in the sky above the obelisk.


BENEFITS
Thanks to the new modern lighting design Victory Square is properly illuminated once again and glows brighter than ever. The lighting hardware no longer shades the beauty of possibly the most im-portant historical monuments in Saint-Petersburg.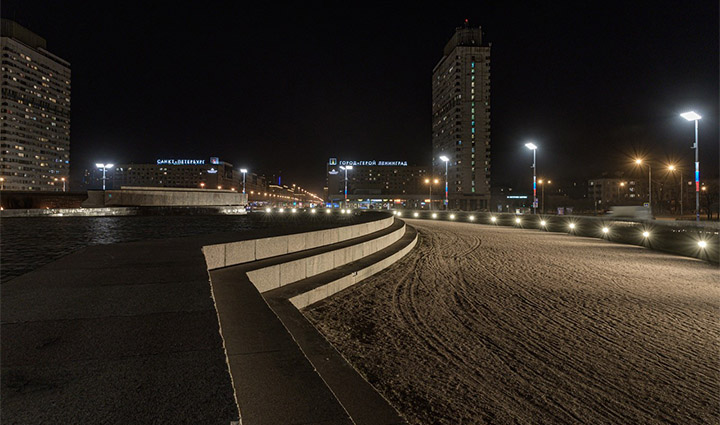 Ideal solution for surface, air and water disinfection
VIOLET is a silicone 12-lens array made from highly resistant UV materials and is also LEDiL's first optic designed for UV-C applications.
This ingress protected optic is an excellent solution in surface, air and water UV disinfection applications as well as for prevention of plant disease and insect infestation.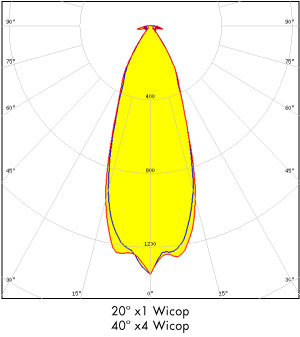 The lens array is made from a special silicone grade having high UV transmittance and is held in place by a sturdy stainless-steel frame. VIOLET can be used with up to 4 LED clusters* under each optical element allowing a flexible output range. It is compatible with UV LEDs from Seoul Viosys and Nichia.
VIOLET enables the creation of cost-efficient UV solutions using minimal amount of UV LEDs and requiring only half the dosage time compared to traditional quartz glass. This can be seen in action from the application example where we have compared VIOLET to a traditional quartz glass solution.
* Depends on LED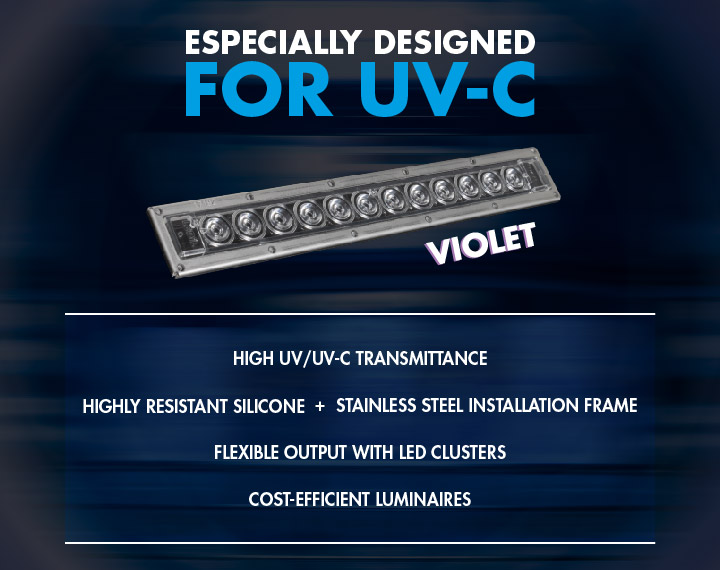 Introduction to UV-C lighting
Ultraviolet light is a range of wavelengths just below the visible light range. It is divided into three different bands, with UV-C starting from 200 nm and going all the way up to 280 nm. As the DNA and RNA of most bacteria and viruses are most sensitive to radiation between 260−270 nm, (germicidal effectiveness goes up to 310 nm) UV-C light is capable of killing them, acting as a contactless, chemical-free disinfectant. Although it is not always necessary to kill all pathogens, UV-C light can be used to simply prevent them from replicating. This achieves the same germicidal effectiveness at significantly lower levels of UV exposure, which is good for materials and reduces luminaire costs, etc.

HEALTH WARNING: UV-C is a high energy form of radiation, exposure to which is a possible health risk to humans and can also harm some materials. High dosages of UV-C can lead to serious burns, skin cancer etc. Very short UV wavelengths also produce ozone and can be considered a health risk at higher concentrations. As UV-C light is completely invisible to the human eye, it is good practice to incorporate some visible light LEDs such as blue to indicate your light source is turned on.



Find all our products for UV-C lighting
STRADA-2X2-LM1 and -LW1 for M-class roads
LEDiL's industry standard STRADA-2X2 family expands with two new street lighting beams optimized for luminance-based M-class roads in Europe. These lenses are designed to optimize in-use efficiency in varying road setups with best in class longitudinal uniformity.
STRADA-2X2-LM1
STRADA-2X2-LM1 has an excellent longitudinal luminance uniformity for EN13201 M-class where road width is equal to the pole height.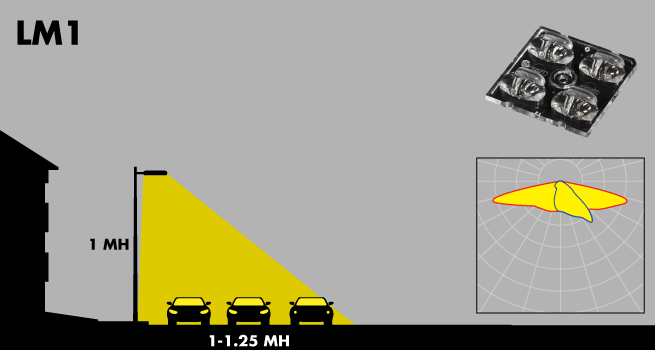 STRADA-2X2-LW1
STRADA-2X2-LW1 has an excellent longitudinal luminance uniformity for EN13201 M-class where road width is wider than the pole height.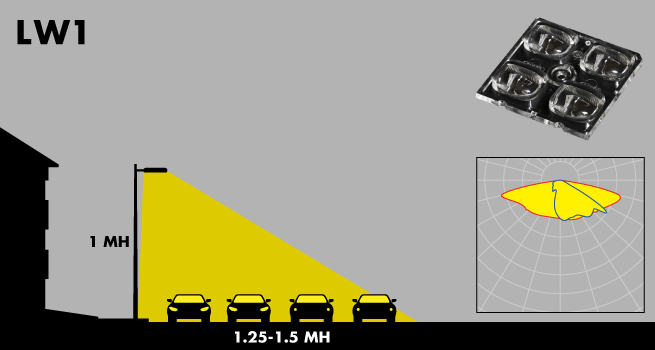 Tegas Electric light it up for a basketball court in Russia
"We chose to work with LEDiL because of the very competent technical support from their representatives and because LEDiL optics give better results."

Roman Prokofiev, Manager, Tegas Electric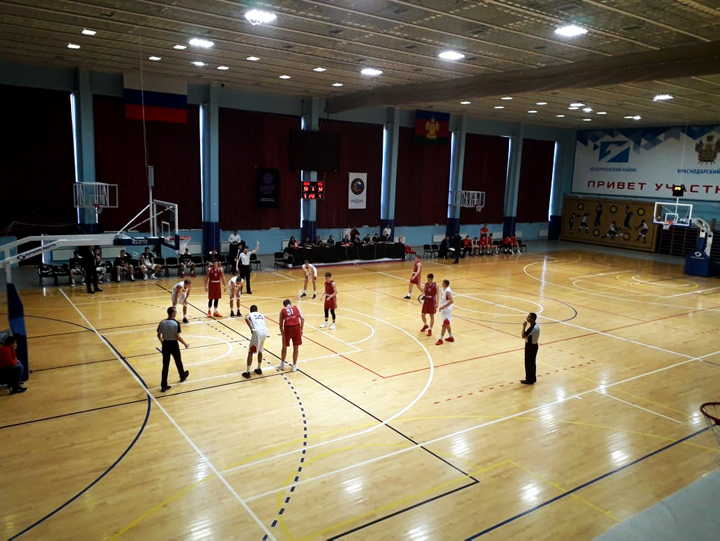 PROJECT
Lighting a basketball court isn't as straightforward as it might sound. Basketball itself is often considered an art, but achieving even illumination over a basketball court is more about science. When Tegas Electric were asked to provide the lighting for the Belorechensk sports school in Krasnodar, Russia they applied the science of light to the project.


SOLUTION
Tegas Electric chose to use a total of 12 of their Tegas 400 W lamps fitted with a variety of LEDiL optics. They located 3 lamps each in the end zones fitted with STRADELLA-8-HB-S optics and sited 2 m from the switchboard, each with a 10-degree tilt. A further 6 lamps with a 50/50 combination of STRADELLA-8-HB-M and STRADELLA-8-HB-S optics were installed to illuminate the centre of the court.


BENEFITS
In addition to a perfectly illuminated basketball court the school authorities gained a solution that is 45 % cheaper than any competitor offering and energy savings of 1.6 Kw/h.
Triton, light up your shelves with innovative retail lighting
"We chose LEDiL due to the solid know-how and motivated, excellent communication that were crucial for the execution of this project."

Allen Scheuch, Architect & Project Manager, Inventron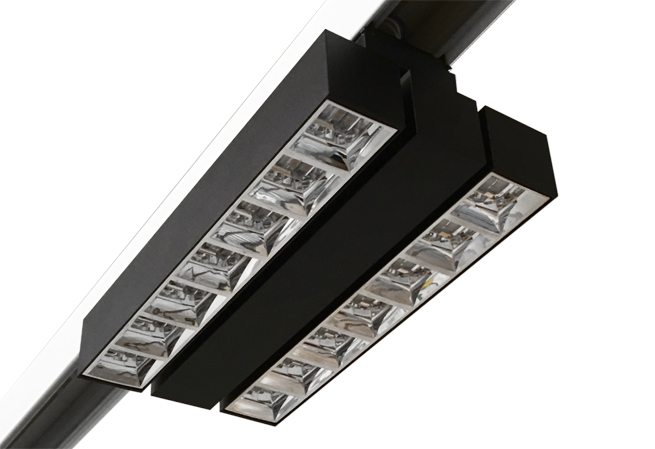 PROJECT
The Triton luminaire was developed by Inventron as a track fixture for retail lighting including the DAISY-7X1-ZT25 optic. The straightforward, aesthetic design in a rectangular shape make it the optimal, adjustable luminaire for lighting shelves from the aisle side in retail environments.


SOLUTION
With Triton, making products in your shelves stand out has been taken to the next level. The Triton delivers outstanding results as it can be tilted and aimed to provide good light quality in versatile settings and prerequisites. The LEDiL DAISY-7X1-ZT25 and the other DAISY family optics bring flexibility. Using different LED options (color and CRI) can easily be done in luminaires to meet a variety of specific needs.


BENEFITS
Triton delivers exactly what it set out to do: great retail lighting illuminating shelves in versatile retail settings. With Triton, glare is reduced whilst the luminaire is compact in size and delivers good efficiency. This track lighting solution provides good light quality as the light is directed to highlight the shelves and can be easily adjusted to match any typical aisle width and installation height for better product display. The reduced glare significantly enhances shopping experience and ambience.
APRILIA 2 SHOPPING CENTRE RETAIL LIGHTING MAKEOVER
"To achieve an excellent lighting fixture it is necessary to use components of great value, for this reason I choose LEDiL. Thanks to their extensive catalog, I know that I will always find the product I need."

Federico Ognibene, ILM Lighting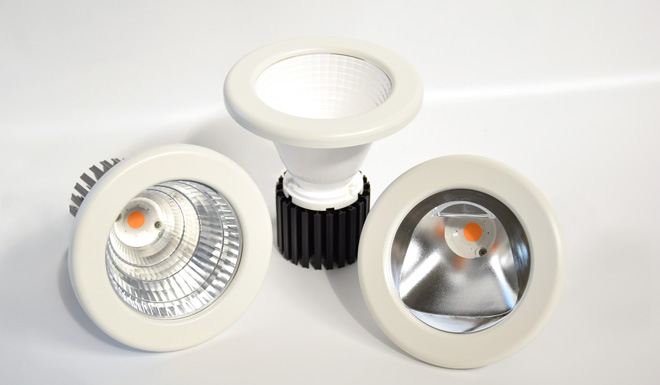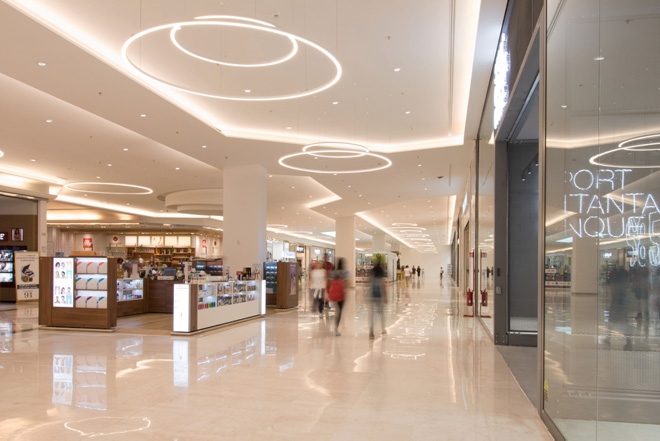 PROJECT
The completion of the 5000 m2 extension to the Aprilia 2 shopping centre in Aprilia, Italy, created space for eleven more commercial units and nine new retail and catering zones. The main gallery also gained an extra 14 metres in width and 5 metres in height. Rome based ILM Lighting used over 300 of their ILM Iride recessed luminaries and over 700 metres ILM BSD series strip LEDs to create a modern, sophisticated lighting environment to enhance the overall customer retail experience.


SOLUTION
ILM used their Iride series of recessed and surface-mounted luminaires. Thanks to Iride's high luminous flux and low power consumption, ILM were able to reduce the number of luminaires initially requested by the shopping centre designers, resulting in a much easier installation process.


BENEFITS
As they are recessed, Iride guarantees high visual comfort and glare protection. One of the reasons for Iride's incredible luminous efficiency is the use of LEDiL LENA reflectors with LENA-STD-BASE2-VERO13-18 basepart. Their variety of opening angles including symmetrical and asymmetrical and cd/klm ratio, guarantee excellent distribution of the emitted luminous flux in relation to the intensity of the source LED used. The end result is a clean design ensuring versatile lighting while maintaining utmost respect for the aesthetic value of the spaces.
RETAIL LIGHTING OUT OF THE BOX FOR SPORT BOX
"We chose LEDiL as they offer high quality products that deliver the performance promised. "

Filip Shkembov, CEO, IKIS Light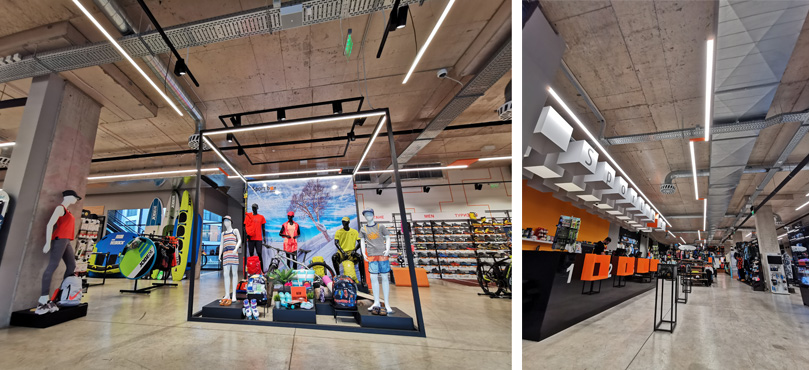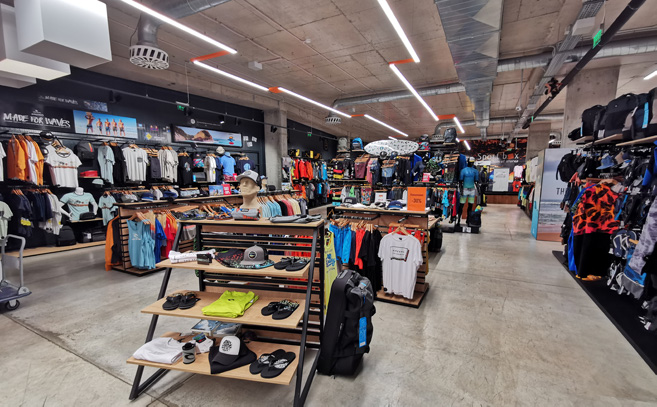 PROJECT
Sporting goods retailer Sport Box from Bulgaria wanted to upgrade their retail lighting to improve the overall customer experience and enhance their brand image. They invited IKIS Light to come up with a solution that would create a light, bright interior that highlights the product offering and consolidates the Sport Box brand image.


SOLUTION
IKIS chose to use FLORENCE-Z90 optics as they deliver market leading colour uniformity in an aesthetically sleek design; perfect for a high end sports retail environment.


BENEFITS
The new system provide a perfect lighting solution meeting the design criteria of providing an improved shopping experience through highlighting the products for sale and consolodating the Sport Box brand image.
Comparison of two linear aisle lighting concepts in supermarkets
The sufficient lighting levels on floor is around 300 to 500 lx, and 600 to 1000 lx on the vertical surfaces where products are displayed
EXAMPLE #1 – SYMMETRICAL LIGHT DISTRIBUTION
In this aisle lighting concept the luminaires have symmetrical light distribution and are located in the middle of an aisle, ensuring evenly and efficiently distributed light to whole area. To get sufficient lighting levels on the shelves usually leads to excess lighting on the floor. Meaning less energy savings and potentially more glare. Go to F13853_FLORENCE-Z90 product card Go to F16261_FLORENCE-Z90-B product card
EXAMPLE #2 – ASYMMETRICAL LIGHT DISTRIBUTION
With asymmetric light distribution the vertical lux levels on the shelves are about double (or at least the same) compared to the floor. When you fulfill the 300 lx level on the floor, you will typically have 600 to 750 lx on the shelves. This approach highlights the products moderately with potential energy efficiency savings and glare reduction. Go to F16858_LINDA-Z2T25 product card
Notice that huge accents are not always preferred or typically recommended, as supermarkets must please a wide range of different people.
General lighting example for supermarkets with LINDA-WW for continuous row luminaires and ALISE-110-M for track lighting. Find more information about the products below, through the links or contact our sales team.
LINDA for continuous rows
Linear extrusion lenses with excellent optical control
Can be customized to support continuous luminaires in different lengths
Easy installation by pressing or sliding into the luminaire housing
ALISE for track lighting
Premium light quality in most popular sizes and beams
Clean and consistent design
High thermal resistance
NEW PRODUCTS – 2019-03-21
Streets, stadiums, colour boosting architectural indoor lighting and miniaturisation. We have it all covered with our new product line-up. Read on to learn more.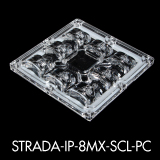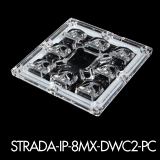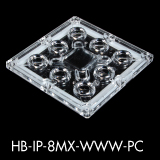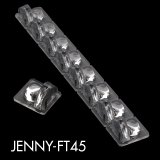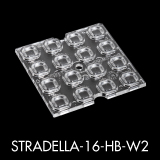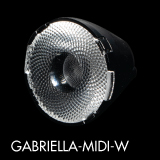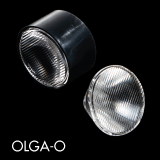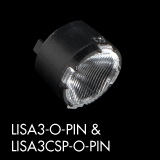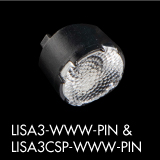 STRADA-IP-8MX-SCL-PC / -DWC2-PC & HB-IP-8MX-WWW-PC
The 8MX series is part of our well established 2X2MX ecosystem with standardized 90 x 90 mm footprint, ingress protection and off-the-shelf luminaire components from selected partners. The lenses are designed for the popular 5050 LEDs and have great impact resistance. SCL and DWC2 beams are ideal choices for street and area lighting, while the WWW with around ~90-degree beam brings uniform lighting to industrial applications. STRADA-IP-8MX-SCL-PC Product card Application example with STRADA-IP-8MX-SCL-PC (Mexican road requirements) STRADA-IP-8MX-DWC2-PC Product card Application example with STRADA-IP-8MX-DWC2-PC (Mexican road requirements) Application example with STRADA-IP-8MX-DWC2-PC (M4) HB-IP-8MX-WWW-PC Product card
JENNY-FT45 & JENNY-8X1-FT45
Calling all sports fields. JENNY-FT45 is at home with big lights and big crowds. This asymmetric solution made from silicone is an ideal solution for large outdoor areas and can also be used with CSP LED clusters to maximize efficiency. Application example – Tennis court lighting Luminaire example – Sports field luminaire Application example – Football field lighting
STRADELLA-16-HB-W2
Improved ~90-degree version of the STRADELLA-16-HB-W for industrial and area lighting. This new version has a batwing type light distribution with excellent cutoff with low glare.
STRADELLA-16-HB-S-PC, -M-PC & -W-PC
Spot, medium and wide beams in a 50 x 50 mm footprint. Packed with 16 individual lenses means STRADELLA delivers a lot of lumens from a small area. Lenses are made from polycarbonate and can be installed with only one screw in the middle.
GABRIELLA-MIDI-W
Bring on the colours! GABRIELLA-MIDI now shines wider than ever with our just released ~35-degree compact version. The uniform colour-mixing capabilities, combined with wide LED compatibility, ensures your architectural lighting projects will shine brightly for years to come.
OLGA-O
Compact elegant lighting for any indoor space. OLGA product family gets a new oval-shaped beam ideal for wall-grazing and corridor lighting. Get to know more about our complete range of OLGA lenses here.
LISA3-O-PIN & LISA3CSP-O-PIN, LISA3-WWW-PIN & LISA3CSP-WWW-PIN
Tiny lenses with huge capabilities. Our much improved LISA-series of lenses gets two new beams to widen your creative possibilities; an oval version for architectural lighting and WWW to achieve around ~60-degree light distribution. Go to LISA3-O-PIN and LISA3CSP-O-PIN product listing Go to LISA3-WWW-PIN and LISA3CSP-WWW-PIN product listing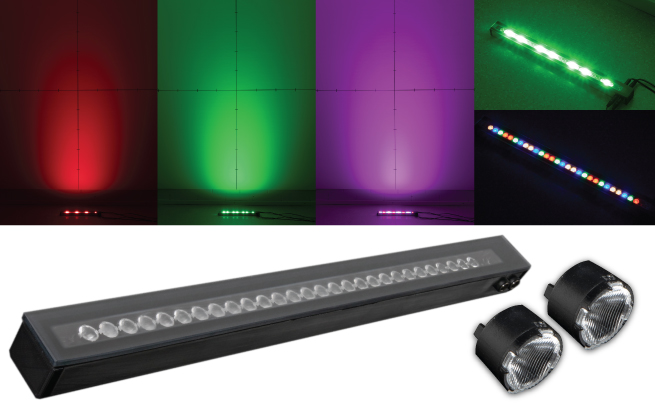 Wall-grazing example with LISA3-O-PIN
SUPERMARKET LIGHTING FOR SPAR IN SOUTH AFRICA
"We chose LEDiL as our preferred partner for this project as they offer a combination of ease of manufacturing and an excellent price point. The FLORENCE optic we chose also has the wide beam angle, control and colour quality required."

Cornel Neethling — LLSA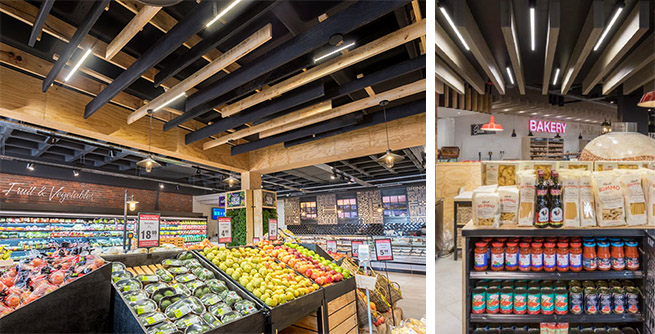 PROJECT
They say, 'we are what we eat', but more importantly we need to 'know what we eat'. This isn't a problem as long as we can see what we want to eat. We have evolved from being hunter gatherers in the wild and today most of us do our hunting and gathering in supermarkets. But just as good light was necessary to hunt food in the wild, so it is today in supermarkets. Good supermarket lighting shows food at its best, fresh, colourful and delicious; the people at Spar in South Africa know this very well. They commissioned leading LED design and manufacturing specialist LLSA to come up with a supermarket lighting solution they could roll out across their stores.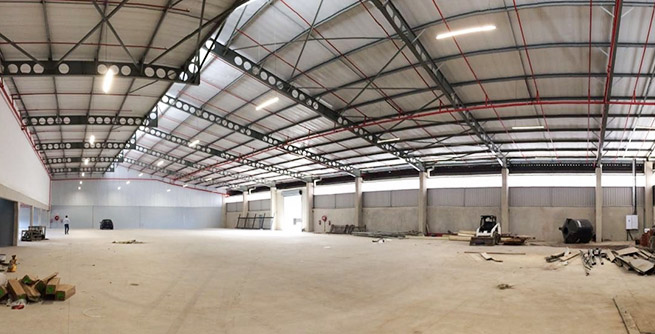 SOLUTION
Drawing on over 12 years of experience of LED specific design and manufacturing LLSA got cracking. The new lighting solution had to meet several criteria: improved target zone efficiency for the customer, reduced energy and better colour quality. LLSA chose to use LEDiL's FLORENCE-1R-Z2T25 optics for their new luminaire as it is a cost-effective lens with the required wide angle and excellent beam control.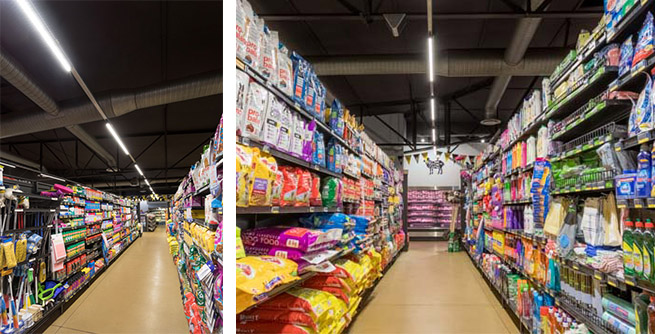 BENEFITS
The new lighting solution more than meets the original project specifications. Target zone efficiency is excellent with packaged products and fresh foods illuminated at the correct colour temperatures to show them at their freshest and best. The new LED lighting is far more efficient resulting in a drop in energy costs too.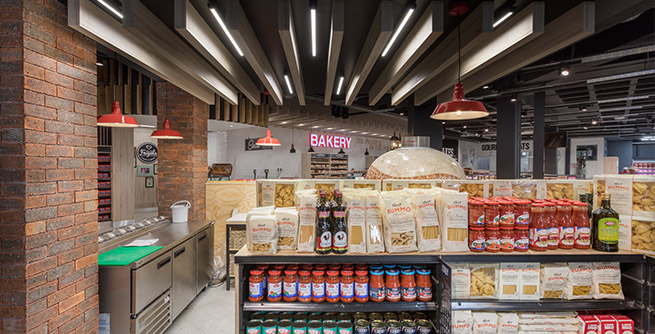 NEW PRODUCTS – 2019-01-31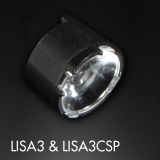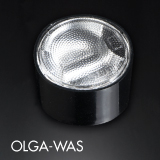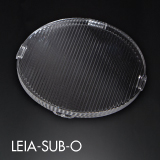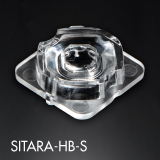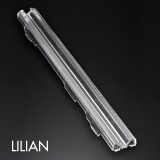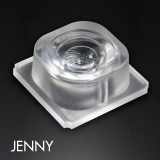 LISA3 & LISA3CSP
LISA, one of our longest running products, has been updated to support up to 3535 size LED packages and topside emitting CSPs. The small size allows for the creation of powerful micro luminaires or massively powerful clusters. A diverse selection of beams range from narrow spots to oval and wide. LISA3 Product listing LISA3CSP Product listing LUMINAIRE EXAMPLE – Vitrine luminaire with LISA3
OLGA-RS & -WAS
Our highly versatile OLGA product family has received two new beams. WAS for creating uniform wall-washing and RS for a tight and powerful spot beam. The RS-beam is optimized for 3535 size LED packages while all the other versions can be fitted with up to 7070 size LED packages. OLGA-RS Product listing OLGA-WAS Product listing APPLICATION EXAMPLE – Wall-washing with OLGA-WAS
LEIA-SUB-O
With an extremely narrow blade-like beam and sharp cutoff LEIA can achieve the extraordinary – an outstanding beam from a single LED source. With this additional oval sublens the beam can be transformed from a single tight spot to an ultra-narrow straight line. Use the power of LEIA to unleash your creativity and defeat the dark. APPLICATION GUIDE – Architectural lighting with LEIA
SITARA-HB-S
SITARA is our cost efficient lens family for flat 5050 size high-power LED packages. The lenses have very high efficiency and single lenses are just 18 x 18 mm in size. The new spot beam has around 35-degree beam angle to accompany the previously released M-version with around 65-degree beam.
LILIAN
We've created a whole new narrow linear optics family for architectural lighting called LILIAN. Made of PMMA this exciting new narrow linear optic family delivers great wall washing for architectural lighting projects and are easy to install with integrated installation clips. Read more about LILIAN LUMINAIRE EXAMPLE – Wall-grazing luminaire with LILIAN-ON APPLICATION EXAMPLE – Wall-grazing with LILIAN-ON
JENNY
We'd like to introduce you to some great new members of our versatile JENNY product family. Our designers have been busy and come up with one new asymmetrical and three new symmetrical NEMA 3, 4 and 5 compliant beams. Read more about JENNY LUMINAIRE EXAMPLE – Sports field luminaire with JENNY-20 APPLICATION EXAMPLE – Football field lighting with JENNY-20 APPLICATION EXAMPLE – Aircraft stand area lighting with JENNY-FT65
NEW PRODUCTS – 2018-12-20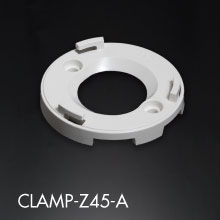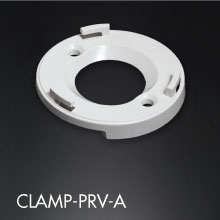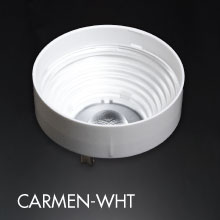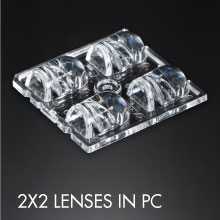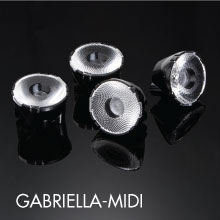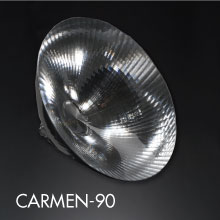 CLAMP-Z45-A AND CLAMP-PRV-A
Two new baseparts for ANGELA, ANGELINA, ANGELETTE, RONDA and MOLLY product families are now available. CLAMP-Z45-A adds compatibility with TE Z45 standard connectors (with pan head screws) and CLAMP-PRV-A makes the range compatible with Osram PrevaLED Core G7 L15 modules (with countersink head screws). More information and compatible LEDs can be found here. CLAMP-Z45-A Product card CLAMP-PRV-A Product card
CARMEN-WHT
It's winter in the Northern hemisphere, and that means less and less natural light during the day. Luckily snow, being white, makes the same amount of light look much brighter. Exactly like CARMEN-WHT by bringing higher efficiency (~90 %) and lower heat absorption when compared to black versions. Meaning greater power.
2X2 LENSES NOW AVAILABLE ALSO IN PC
We have launched a host of new 2X2 lenses made from polycarbonate. With high impact resistance they are an excellent choice for durable street and industrial lighting.
GABRIELLA-MIDI
GABRIELLA-MIDI is a RGB and tunable white colour mixing lens for architectural, stage and flood lighting. The compact size means 44% more LEDs fitting in the same PAR64 size luminaire than with GABRIELLA-45. GABRIELLA-MIDI is optimized for 5050 and compatible with 7070 RGB LEDs that include OSRAM OSTAR Stage, Cree XM-L Colour and LEDengin LZ4. Available in spot, medium and oval beams. Read more about GABRIELLA-MIDI
CARMEN-90
CARMEN-90 is a Ø90 mm metallized lens with minimized spill-light and glare with high cd/lm peak values. The spot beam is a perfect solution for architectural, projector, stage, track and spot lighting applications that require tight cutoff and excellent uniformity. CARMEN-90 is compatible with LES sizes up to 14.5 mm and LEDiL's HEKLA connectors with 'twist and lock' mounting for quick and easy installation. Read more about CARMEN-90
NEW PRODUCTS – 2018-11-13




SITARA-HB-M
18 x 18 mm cost-effective single lens for industrial lighting with ~65° light distribution. Made from PC and is optimized for flat high-power 5050 size LED packages such as Duris S8, Luxeon 5050 and Cree MHB.
STRADELLA-16-T2
50 x 50 mm 16 lens array with industry standard form factor and same lumen density as with STRADA-2X2 and STRADELLA-8 . First version available is IESNA Type II (medium) beam. Applicable for European P-class standard pedestrian lighting and M-class roads.
CLAUDIA
CLAUDIA is LEDiL's newest glare controlled linear lens family for cost-effective retail lighting. The unique optical sun pattern design delivers smooth light distribution with good vertical illumination, perfect for supermarkets. Read more about CLAUDIA
LINNEA-GC-90
An extension to the popular LINNEA product family LINNEA-GC-90 provides a uniform lit surface with improved glare control. The aesthetically pleasing design makes LINNEA-GC-90 especially suitable for retail environments where visual appearance is important. Read more about LINNEA-GC-90
IRIE
IRIE is LEDiL's new low profile IR lens for near field applications for distances from 1–5 m and a wide field of angle. Optimized for a 4:3 aspect ratio IRIE has a unique batwing beam distribution for uniform irradiance. Read more about IRIE
HELP YOUR BUSINESS 'BEAR FRUIT' FASTER THAN EVER
"We chose LEDiL as our optic supplier because this company provides best in class optics with ideal characteristics for growing plants. After all, the floral business grows best with the best solutions."

M.Sc.Eng. Maciej Kalinowski, LED Technical Support, Cezos

Plants have been grown under artificial lighting conditions for decades but only recently with LED as the light source. LEDs save energy and can boost different growth phases for different species at different stages of their development. LED horticultural lighting can also be used to alter not only plant growth, but also their taste and appearance, by adjusting the spectral content and the intensity of the light over time. But it has been a challenge to create LED luminaires for horticultural lighting with good enough uniformity and control of the light spectrum to create optimal growing conditions.

Cezos, from Gdynia in Poland, was tasked with developing an engineering kit to gather data and research best practice when combining a professional horticulture luminaire with OSRAM horticulture LEDs and LEDiL's brand new horticultural optic DAHLIA. LEDs can be fully controlled, so the challenge lies in matching the light spectrum for specific plants by choosing the right LEDs, optimizing thermal design for high power LEDs and directing the light uniformly where it is needed with efficient and precise optics.

CEZOS PRESENTS THE GROWEMITY 120 WITH LEDiL's DAHLIA OPTICS
Cezos has cracked the nut with its IP65 rated light engine kit optimized for greenhouse top lighting and domestic cultivation that leverages the high energy efficiency of LEDs to provide a cost efficient horticultural growing solution. It allows for multiple LED configurations and is designed to accelerate plant growth and increase harvest.

The four channels of the high thermal performance board can be individually adjusted to control intensity and light colour to suit the diverse needs and growth stages of the plant.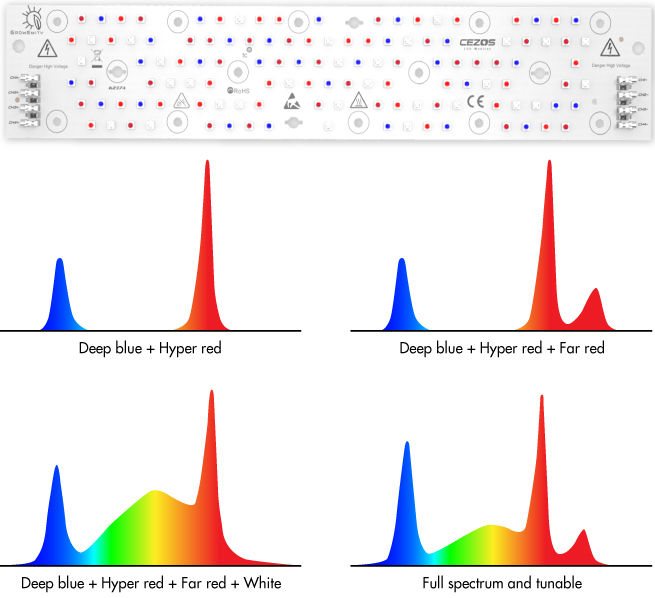 To be effective the GrowEmity 120 required an optical solution to control the light and direct it for maximum effect. Cezos chose to use LEDiL's new optic DAHLIA with IP65 gasket. DAHLIA provides uniform light over a large area with its batwing type beam and fits 120 LEDs under one lens array allowing full control of the full light spectrum with various LED channels.

The GrowEmity 120 has wide LED compatibility and has been tested with a combination of Oslon Square GH CSSRM2.24, SSL – GH CSxPM1.24 and GD CSxPM1.24 as well as LUW CQAR and GF DASPA2.24 to achieve the required light spectrum variations.

The key to the success of the GrowEmity 120 is efficacy and uniformity together with the possibility to customize it for almost any growing condition. The GrowEmity 120 has been tested in laboratory conditions and the feedback from scientists has been very positive.

More information on GrowEmity 120
DAHLIA
WELCOME TO A WHOLE NEW WORLD OF OPPORTUNITY IN HORTICULTURAL GROWTH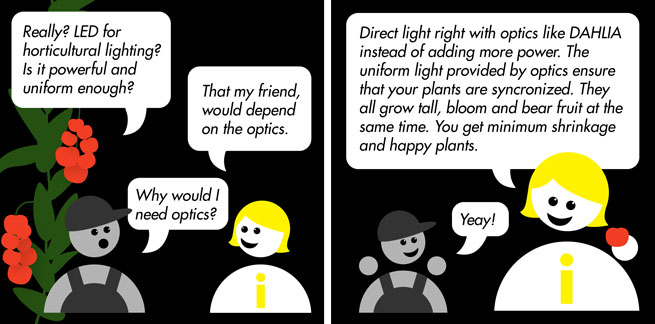 DAHLIA is LEDiL's latest optic for the horticultural industry. Designed specifically for greenhouse top lighting, DAHLIA is a highly efficient compact linear platform fitting 120 LEDs with up to IP67 ingress protection. The batwing type beam provides extremely uniform lighting in the growth area resulting in shorter growing cycles and even growth of plants, flowers and salad crops. DAHLIA enables you to fully control the light spectrum and intensity to meet the growth phases of individual plants with the support of 1-4 channels and a varying number of LEDs per channel. As DAHLIA fits 120 LEDs, a number divisible by 4, 3 and 2 it covers all the bases regardless of the number of channels you might need. So if you want to get your flowers blooming just turn up the blue light; or zap them with a bit of extra purple light to speed up growth without flowering. Naturally, because we're talking LED, DAHLIA helps reduce your luminaire bill of material by focusing the light energy on the plants using less power and less luminaires compared to traditional solutions.
NEW PRODUCTS – 2018-09-13
VICTORIA – power and uniformity in high bay installations without glare. Second generation BARBARA-G2 reflector is now ready to ship and the latest addition to the STRADA family, STRADA-2X2-5050 with a T2-C beam is now available.



VICTORIA
With a power output of up to 40 000 lumens LEDiL's new powerhouse optic is sure to brighten up not just your day, but also your highbay. This 160 optical gem offers incredible optical performance while eliminating colour-over-angle-artefacts from the beam. Read more about VICTORIA
BARBARA-G2
LEDiL's 2nd generation BARBARA reflectors are now available to order. Compatibility with HEKLA sockets and connectors with a bayonet fastening mechanism makes installation and replacement quick and easy. With optimized performance for the latest midsized COBs and support for LEDiL's RZ-sublens accessory for colour mixing, BARBARA can be used in a wide range of applications from retail to stage lighting with full RGB and tunable white. Go to BARBARA-G2 tunable white application guide
STRADA-2X2-5050
We love STRADA, and we know you do too. That's why, when following the latest LED trends in the market, we have decided to offer dedicated versions for flat 5050 size LED packages. The first lens available is called T2-C with IESNA Type II (medium) light distribution designed for tilted and long armatures.
LEIA – LED OPTIC FOR ARCHITECTURAL LIGHTING
COMPACT ULTRA-NARROW BEAM LENS FOR WALL-GRAZING AND DECORATIVE APPLICATIONS
LEIA is the latest in an ever-growing range of architectural and decorative lighting solutions from LEDiL. With an extremely narrow blade-like beam and sharp cutoff LEIA can achieve the extraordinary – highly efficient light from just a single LED source – something architects and designers have all been waiting for.
Unique in the market, LEIA represents a paradigm shift in what can be achieved to create innovative and memorable lighting all around the world.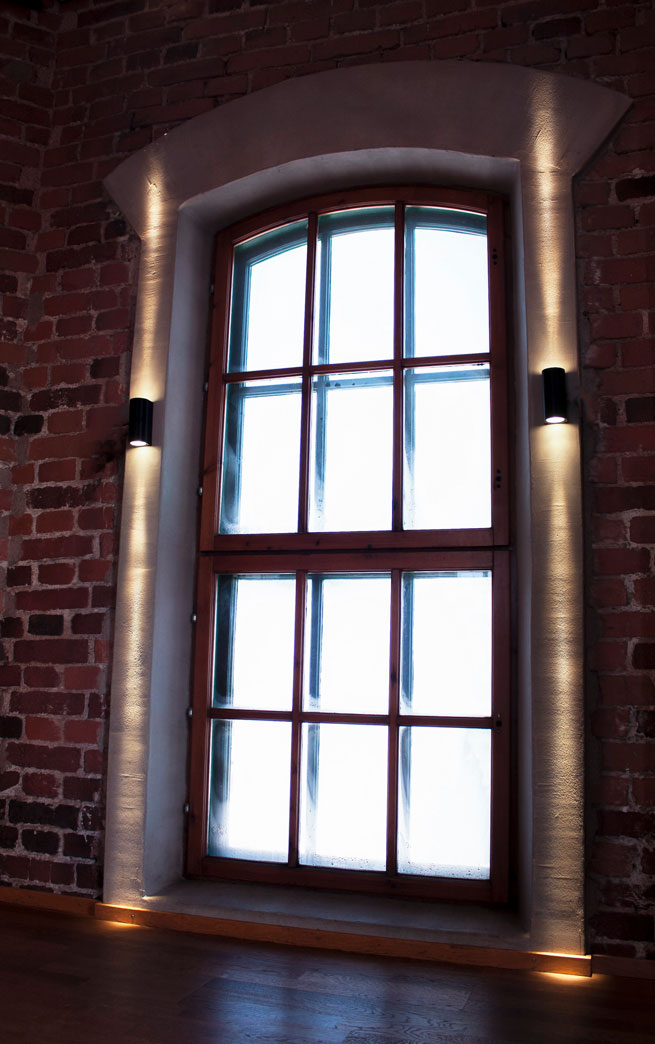 GREAT THINGS COME IN NARROW PACKAGES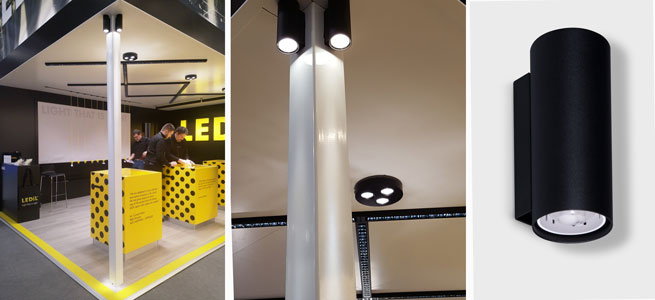 HOW GERMAN LIGHTING SPECIALIST LTS HELPED LEIA SHINE
All of you who visited us at this year's Light+Building in Frankfurt will remember we had some pretty amazing products on show. You may also remember one of the stars of our stand was LEIA, our newly developed lens providing a compact ultra-narrow beam for wall-grazing and decorative lighting.

To many, a lens is a lens is a lens, until of course it forms part of a complete luminaire. As it is such a unique innovation for the architectural and lighting design market, we really wanted to show LEIA in action. To highlight how light can be so right from the people who make 'Light that is Right', so to speak.

So we reached out to LTS Licht & Leuchten GmbH based in Tettnang, Germany. LTS are a member of the Swedish Fagerhult Group and produce extremely innovative, high quality luminaires and lighting solutions primarily for retail, hospitality and office environments. But they are also able to make custom solutions, which was what we were looking for.

More than happy to help, LTS designed and manufactured a cylindrical luminaire for direct wall mounting. The design needed to reflect the narrow beam LEIA can produce and LTS managed to come up with something just 50 mm in diameter.

Now slim and elegant is all very well, but the heat generated by LEDs requires cooling, and in a design so narrow, it just wasn't possible to use a conventional cooler. So LTS fabricated the housing from high-grade aluminium, which acts as a cooler for the luminaire; very clever, just like LEIA.

Originally designed as a custom solution for LEDiL, LTS have been so impressed with the end result they now intend adding this very special luminaire to their existing portfolio, and it should be available to their customers very soon. So if you are looking for a narrow beam wall-grazing or decorative lighting solution, you know where to call.

TOPICS OF THIS ARTICLE: LEIA / ARCHITECTURAL LIGHTING / LTS / WALL-GRAZING NEW PRODUCTS – 2018-08-20 So you think it's been hot this summer? Wait until your get your hands on LEIA – a super sharp light for architectural lighting with a single high-power LED. For street lighting we give you a new ingress protected MX-series optics with 8 lenses in the array. Read further to learn more about our latest LED optics. LEIA LEIA is the latest in an ever-growing range of architectural and decorative lighting solutions from LEDiL. With an extremely narrow blade-like beam and sharp cutoff LEIA can achieve the extraordinary – highly efficient light from just a single LED source. Read more STRADA-IP-8MX-T2-C-PC A new street lighting family that combines the advantages of the well-proven LEDiL 2X2MX platform with the popularity of 5050 size LED packages. 90 x 90 mm optics with 8 individual lenses allows excellent lm/w compared to 3535 size high power ceramic LED packages. With up to IP67 ingress protection and made of tough polycarbonate the lens can withstand heat and moisture while still performing efficiently, even without protective glass. The first beam available is T2-C. With IESNA Type II (medium) light distribution and added house side backlight it has been designed for tilted and long armatures. Road lighting example with STRADA-IP-8MX-T2-C-PC STRADA-2X2-FR New 2X2 STRADA lens with asymmetric light distribution especially designed to meet requirements for lighting railway tracks. Railway track lighting example with STRADA-2X2-FR STRADELLA-IP-28-SCL & STRADELLA-IP-28-SCL-PC 100 x 100 mm 28-up lens module with Type II/III (Long) light distribution for very wide pole to pole distances. Ideal for pedestrian walkways and residential roads. (EN13201 P-classes). Ingress protection for up to IP67 and available in both PMMA and PC. 2X6 LENSES NOW AVAILABLE ALSO IN PC We have launched a host of new 2X6 lenses made from polycarbonate. With ingress protection up to IP67 and high impact resistance, they are an excellent choice for durable street and industrial lighting. NEW PRODUCTS – 2018-07-06 CARMEN-50 IN WHITE! Make your retail lighting shine brighter and more efficiently with our new white 50 mm CARMEN optics. Beam angles available from ultra-narrow 10° to as wide as 50°. MOLLY MOLLY is a one-piece PMMA optic for track- and spotlights that can be installed directly into different sockets and connectors. This means more compact luminaire designs and easier maintenance. Now available with medium and wide light distributions for BJB-interface. STELLA-G2-T2 AND -T4 Ø90 mm silicone optics with IESNA Type II (medium) light distribution suitable for European P-class standard pedestrian lighting and M-class roads, and IESNA Type IV for wider roads and area lighting for places such as car parks and gardens. STRADELLA-IP-28-T1-A 100 x 100 mm 28-up lens module with asymmetric IESNA Type I (short) light distribution. Results in a Type II light distribution with tilted poles. Ingress protection for up to IP67 and available in both PMMA and PC. STRADA-IP-2X6-T2-L AND -T3-L Aren't there enough street lighting beams already? We don't think so and are on a mission to provide solutions for all kinds of streets and needs. So now it's time to launch ingress protected 2X6 lenses with IESNA Type II and III (long) light distributions. STRADA-2X2CSP-T3 New 2X2 STRADA lens with IESNA Type III (medium) beam for CSP LEDs. NEW BASEPARTS Two new standard LEDiL baseparts in two different interfaces to expand compatibility for LENA, LENINA, ANGELA, ANGELINA, ANGELETTE, MOLLY and RONDA with VERO13, VERO18 and VERO29 COB LEDs. LENA-STD-BASE-VERO29 CLAMP-VERO29 CLAMP-VEROSE-13-18 CARMEN-RS – PREMIUM QUALITY 10° SPOT FOR RETAIL LIGHTING Latest addition to the CARMEN-family FEATURES

Ø70 mm, H 36 mm
Hybrid design of lens and reflector providing high quality light performance
Even as tight as 9° beam depending on the LED
Ideal for retail lighting with clean cutoff, minimized spill light and low glare

TYPICAL APPLICATIONS RELATED PRODUCTS CP15916_CARMEN-RS-C

---

STRADA-SQ FAMILY GROWS WITH THREE NEW BEAM VARIANTS LEDiL's STRADA-SQ optics with 25 x 25 mm footprint allows compact and versatile light engines, as well as the possibility to mix different beams inside one luminaire. Compatibility with the latest Super High Power LEDs ensures you get a strong lumen output from a relatively small area. STRADA-SQ-C Canopy, emergency lighting (anti panic), batwing light distribution STRADA-SQ-PX For pedestrian crossings with right side traffic STRADA-SQ-SCL Type II/III (Long) for very wide pole to pole distances RELATED PRODUCTS CA16031_STRADA-SQ-C C16029_STRADA-SQ-C CA16015_STRADA-SQ-SCL C16014_STRADA-SQ-SCL CA16169_STRADA-SQ-PX C16168_STRADA-SQ-PX

---

STRADA-2X2-FS3 – FOR TUNNEL AND AREA LIGHTING FEATURES

Optimized for European tunnels with a counter-traffic installation
Throws light extremely far forward with the peak being in 60˚
Works well also in high mast area lighting on a very long pole distances or greater overlapping

TYPICAL APPLICATIONS RELATED PRODUCTS C15962_STRADA-2X2-FS3

---

LINNEA-ZT25 AND Z2T25 – SINGLE AND DOUBLE ASYMMETRICAL BEAM VERSIONS FEATURES

Off-the-shelf linear optics fitting into old and new luminaire designs with wide PCB compatibility
Advanced optical control with great colour uniformity and reduced longitudinal glare
Extremely fast to assemble with integrated clips and optional end caps
Range of symmetrical and asymmetrical beams

TYPICAL APPLICATIONS RELATED PRODUCTS F15861_LINNEA-ZT25 F15860_LINNEA-Z2T25

---

STRADA-2X2CSP – 50 x 50 MM OPTICS IN THE INDUSTRY STANDARD 2X2 FOOTPRINT NOW OPTIMIZED FOR HIGH POWER CSP LEDS STRADA-2X2CSP optics with a standardized 50 x 50 mm modular footprint are easily adaptable to different luminaire designs and applications. Being the original inventor of 2X2 modules LEDiL provides the widest range of different beams available – especially for street and high bay lighting. Modules are future proof, easy to install with one screw in the middle and are normally used with a protective cover in street lighting. FEATURES

Range of lenses for the low cost but high power CSP LEDs (chip scale package) : STRADA-2X2CSP- SCL, -VSM, -T2 optimized for HP CSPs
Same footprint as in LEDiL standard STRADA-2X2
Existing HB versions of STRADA-2X2 are compatible with CSP LEDs as such

TYPICAL APPLICATIONS RELATED PRODUCTS C16119_STRADA-2X2CSP-SCL C15932_STRADA-2X2CSP-VSM C15967_STRADA-2X2CSP-T2

---

HB-2X2-ON – NARROW AND OVAL SHAPED BEAM IDEAL FOR AISLE AND SHELF LIGHTING IN INDUSTRIAL APPLICATIONS FEATURES

About 50 % narrower beam along the aisle than with HB-2X2-O
Sharp cutoff in longitudinal direction for reduced glare

TYPICAL APPLICATIONS RELATED PRODUCTS C15925_HB-2X2-ON

---

STRADA-2X2-T2-C – TYPE II (MEDIUM) STREET LIGHTING FOR TILTED AND LONG ARMATURES FEATURES

Highly efficient PMMA optics and easy fastening
Designed for poles with an overhang or a bigger boom angle
Controlled amount of intentional backlight with no disturbing peak
Outstanding efficiency and full cutoff with flat glass
Fully compatible for Brazilian tenders

TYPICAL APPLICATIONS

Backlight illuminates pedestrian roads in addition to main roads

RELATED PRODUCTS C15292_STRADA-2X2-T2-C

---

STRADA-IP-2X6-DWC-B – ORIGINAL -DWC NOW WITH SAME MECHANICAL FEATURES AS THE REST OF THE STRADA-IP-2X6 FAMILY FEATURES

Updated mechanics including screw holes and component pockets
Silicone sealed wide asymmetric street light array with up to IP67 ingress protection
Ideal installation ratio 1:1 to road width and mounting height

TYPICAL APPLICATIONS

European M/ME classes
IESNA Type III (cutoff/full cutoff)

RELATED PRODUCTS CS15671_STRADA-IP-2X6-DWC-B

---

NEW ADDITIONS TO STRADELLA FAMILY – STRADELLA-T4-B AND STRADELLA-8-T1-A STRADELLA-T4-B Forward-throw beam with powerful peak at 70 degrees FEATURES

Wide square-shaped beam pattern, wider than T4 optics
Minimal light spill on the house side

TYPICAL APPLICATIONS STRADELLA-8-T1-A Asymmetrical IESNA Type I beam with great cutoff FEATURES

Designed for use with 5-15˚ boom angle (Type II)
Ideal for Indian street lighting requirements

TYPICAL APPLICATIONS

Road lighting
Tilted poles
India specific

RELATED PRODUCTS C15917_STRADELLA-T4-B C16005_STRADELLA-8-T1-A

---